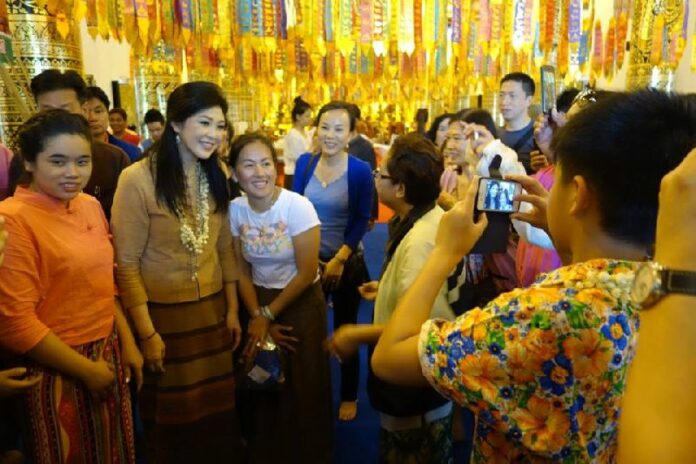 (15 April) Prime Minister Yingluck Shinawatra attended a religious ceremony for good fortune for the occasion of the tradition of Thai New Year in her home province of Chiang Mai today.
Ms. Yingluck was accompanied by her son, Supphasek Amornchat, and her sister, Yaowapa Shinawatra, as she prayed to the statue of Khun Meng Rai the Great in Chedi Luang Worawiharn Temple this morning.
The Prime Minister also prayed to other statues of deities in the temple and asked for blessing from the abbot.
As Ms. Yingluck was attending the religious service, a large crowd of citizens and Chinese tourists gathered outside the temple to take photos of the Prime Minister, while lottery vendors hawked their products to numerous patrons, capitalising on the belief among lotto veterans that Ms. Yingluck is associated with lucky lotto numbers.
77 was the best-selling number today, lottery vendors said, as the number appeared on the license plate of Ms. Yingluck's official vehicle; many lottery buyers have previously won prizes by betting on the number of the Prime Minister's license plate.
"I have always liked this Prime Minister," said Ms. Buakam Kamsai, a lottery vendor in the temple compound, "Today I have brought jasmines to give to her, and I have bought 9 lotto tickets with the number 77 for myself."
She added, "I want her to be a Prime Minister for a long time."
After the ceremony was over Ms. Yingluck and her entourage of officials left for lunch, and her son boarded a pick-up truck with his friends for Songkran water fights around Chiang Mai city moat.
Ms. Yingluck is facing two separate legal investigations by the National Anti-Corruption Commission (NACC) and the Constitutional Court once the Songkran holiday is over. Guilty verdicts by both agencies could result in Ms. Yingluck losing her caretaker position.
For comments, or corrections to this article please contact: [email protected]
You can also find Khaosod English on Twitter and Facebook
http://twitter.com/KhaosodEnglish
http://www.facebook.com/KhaosodEnglish