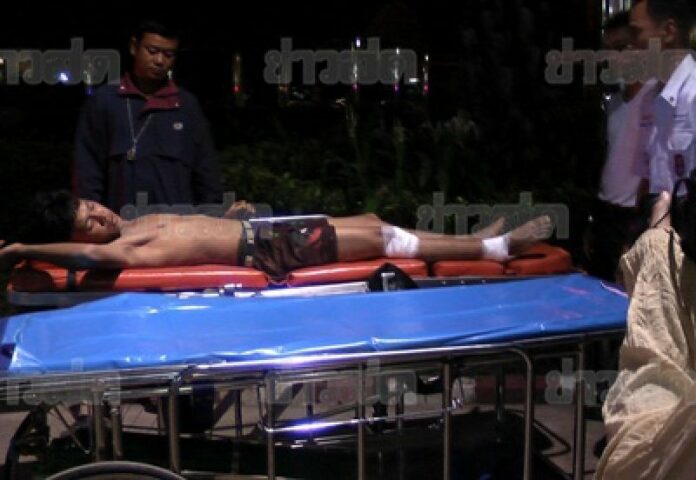 (14 April) The last night of Songkran celebration was marked by at least 3 cases of alcohol-fueled gun crime in 3 provinces.
The largest outburst of violence occurred in Soi Intamra 25-27 on Sutthisarn Winitchai in Bangkok's Sutthisarn district, when fist fights broke out between two groups of teenagers who were enjoying Songkran water fights.
Several gunshots were later heard, sending crowds of Songkran revelers scattering for shelter.
The fight left one teenager dead and 3 others injured. The deceased was identified as Mr. Jack Yangthaworn, 29.
The police later surrounded Soi Intamra 25-27 to look for the perpetrators. According to the police, at least 40 "teenage gangsters" were involved in the fight, though it is not immediately clear whether any of them have been arrested.
Witnesses said the brawl started after the teenagers, some of whom were drunk at the time, "looked at each other" in an aggressive way.
Other gun violence was reported in Prachinburi province by Mr. Sakda Chuekong, 19, who claimed a pair of motorists fired shots at his vehicle while he was driving on Prachinburi Road in front of Wat Pa Song Khun in Mueang district.
According to Mr. Sakda, he had been drinking with his friends at Wat Nong Bua Temple earlier, and later drove his motorcycle home. Mr. Sakda said he encountered the pair of motorists in their pick-up truck on the road, and exchange glances with them, but the motorists reportedly became enraged and opened fire at Mr. Sakda.
Fortunately, the bullet missed Mr. Sakda by inches, smashing instead into a rear mirror of his motorbike. Nevertheless, Mr. Sakda told police, the pick-up truck driver slammed the vehicle into his motorcycle in anger, causing Mr. Sakda to fall onto the road, before the assailants sped away from the scene.
Mr. Sakda added that he had no previous disagreements with the attackers, leading the police to believe the motorists might have been drunk and offended by Mr. Sakda's brief stare.
Police said they are looking for the suspects.
Meanwhile, police in Petchaburi province received reports that a man has been shot dead in a carwash in Cha-Am district. The man was identified as Mr. Papas Ratthanawut, 37, who was also the owner of the carwash.
According to the police, witnesses said Mr. Papas liked to invite his neighbours for drinks at the carwash, and he was seen drinking with a group of people prior to his death. Witnesses told police they heard sounds of a drunken fight from Mr. Papas in the early morning, but the sounds eventually subsided. Mr. Papas was found dead later in the morning.
Police suspect that Mr. Papas and his drinking companions were engaged in fistfights before one of them shot him dead. No suspect has been arrested so far, though police said they have interrogated several people believed to have been drinking with him on the night of the crime.
For comments, or corrections to this article please contact: [email protected]
You can also find Khaosod English on Twitter and Facebook
http://twitter.com/KhaosodEnglish
http://www.facebook.com/KhaosodEnglish