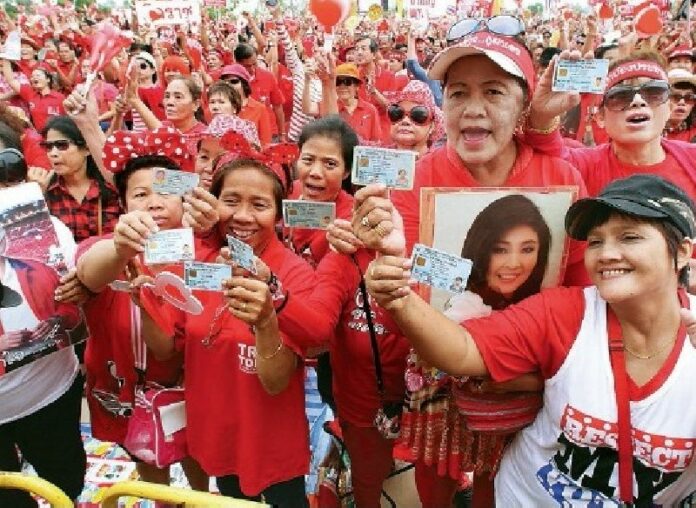 (16 April) The Redshirts have threatened to call a massive rally to express their anger should the court decide to revoke the bail release of their leaders.
The Criminal Court is scheduled to rule on 18 April whether Mr. Jatupon Prompan, the leader of the United Front of Democracy Against Dictatorship (UDD), and his deputy, Mr. Nattawut Saikuea, will have their bail stripped on the grounds of breaking their release conditions by participating in political movements.
Both Mr. Jatupon and Mr. Nattawut are facing terrorism charges related to the unrest in Bangkok in 2010.
Today Mr. Jatupon downplayed the risk of any potential disruption to the UDD chain of command if the court does indeed decree that he must go back to prison with Mr. Nattawut, explaining that the UDD leaders have already arranged plans for all possible "scenarios".
"If our bails are revoked, it certainly wouldn't affect the movements of the Redshirts, because we have fought alongside each other for so long," Mr. Jatupon told reporters, "Each of us understands the fight".
He also claimed that the court decision to strip him of bail would only motivate the Redshirts to take to the streets in great numbers to voice their frustration at the "injustice".
"I have not done anything against the bail conditions," Mr. Jatupon said, "And the people who are charged with terrorism for seizing airports and public buildings have not had their bails revoked", referring to the rival Yellowshirts leaders and their anti-government campaign in 2008.
"I believe this rally will attract an overwhelming number of demonstrators, because the Redshirts will not want to lose face and surrender to Suthep Thaugsuban," Mr. Jatupon added, meaning the sec-gen of the People's Committee for Absolute Democracy With the King As Head of State.
Chief advisor to the UDD, Ms. Thida Thawornseth, echoed the same threat in a press conference at the Imperial Latphrao shopping mall today, stating that the Redshirts are willing to organise a massive rally in support of Mr. Jatupon, and to deter any faction from launching a coup against Ms. Yingluck.
"We will close the doors to coups of all kinds," Ms. Thida said, "Be it a coup by the military or a coup by the judiciary".
For comments, or corrections to this article please contact: [email protected]
You can also find Khaosod English on Twitter and Facebook
http://twitter.com/KhaosodEnglish
http://www.facebook.com/KhaosodEnglish