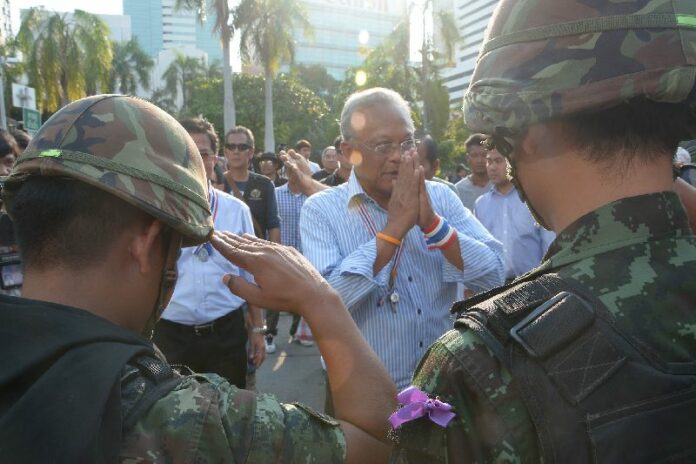 BANGKOK — The Royal Thai Army has dismissed the rumour that a military coup will occur on 19 April, insisting that the armed forces are neutral in politics.
"It's just a rumour on social media, like in the past," said Col. Winthai Suvaree, spokesman of the army.
He also insisted that the military's objective is only to serve the public, safeguard the borders of Thailand, and provide security to all sides amid the ongoing political crisis which has claimed at least 22 lives.
"I beg all brothers and sisters to exercise their judgement when they receive news and information," Col. Winthai told reporters.
His comment came days after Gen. Saiyud Koetpol, former Chief of the Thai Armed Force, suggested that former Prime Minister and Head of the Privy Council, Gen. Prem Tinsulanond, serve as a "mediator" to end the conflict by discussing issues with members of the judiciary, the armed forces, and other prominent factions.
Gen. Saiyud's comment has angered many pro-government activists, who view Gen. Prem as the chief engineer of the 2006 military coup that ousted former Prime Minister Thaksin Shinawatra.
Some Redshirts also accuse Gen. Prem of harbouring a desire to serve as an appointed Prime Minister in the event that PM Yingluck Shinawatra is ousted by a coup.
Speaking at a small Redshirts rally earlier today, Mr. Nattawut Saikuea, a core leader of the United Front of Democracy Against Dictatorship (UDD), called Gen. Saiyud's effort to encourage Gen. Prem to serve as a mediator a "screening of Jurassic Park".
He added that he hopes no top official will take such a "backward" suggestion seriously.
For comments, or corrections to this article please contact: [email protected]
You can also find Khaosod English on Twitter and Facebook
http://twitter.com/KhaosodEnglish
http://www.facebook.com/KhaosodEnglish