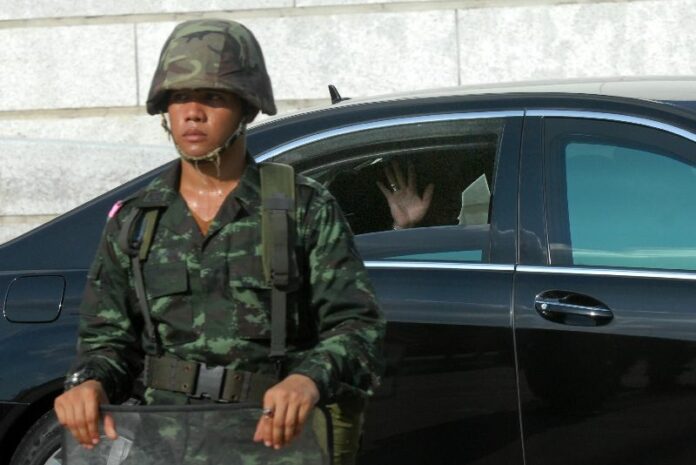 BANGKOK — Thailand may not get to see a functioning government for 24 more months.
"We have presented two solutions," said Election Commissioner Somchai Srisutthiyakorn. "One option is a quick arrangement of elections five months from now … and the other option is an election in one or two years from now."
Mr. Somchai made the comment several hours after he attended a 7-party "peace talk" arranged by the military, who declared martial law on Tuesday to prevent an escalation of violence between Bangkok's rival protest groups.
Todays's meeting was aimed at finding a peaceful solution to the protracted political crisis that pits the embattled caretaker government of Prime Minister Niwatthamrong Boonsongphaisarn against anti-government protesters allied with the establishment.
The government and its Redshirt supporters have consistently argued that holding elections is the best way to resolve the country's political impasse, while anti-government protesters and members of the oppostion Democrat Party have demanded that unspecified "national reforms" be held before any election takes place.
The closed-door meeting marks the first time since political turmoil erupted last November that all sides of Thailand's political conflict met in the same room to discuss ways out of the country's protracted crisis. The military-mediated discussion was attended by ministers from the caretaker goverment, the Senate Speaker, the Election Commissioner, the chairmans of the Pheu Thai and Democrat Parties, and leaders of the pro-government and anti-government protest groups.
"The Election Commission insisted at the meeting that an election is still the solution to the country," Mr. Somchai said in a press conference today. "It's just we have to wait for the right moment, so that the election takes place in peaceful and orderly manner, and a universally-accepted government can be formed after the election."
He explained that he suggested the two drastically different timeframes at today's meeting so that participants could decide whether they are able to "create an appropriate atmosphere and mechanism to ensure a free and fair election" in the next two months.
If they decide that they are not up to the task, they should wait one or two more years to solve the situation before an election is held, Mr. Somchai said.
Regardless of which option will be adopted, Mr. Somchai said, all relevant parties must present mechanisms that will guarantee the new Prime Minister and Cabinet take power in a manner that is legal and genuinely accepted by all sides.
Those who attended today's "peace talks" have all agreed to convene again tomorrow to further various scenarios for resolving Thailand's political impasse.
Thailand has not seen a functioning government since former Prime Minister Yingluck Shinawatra dissolved the House in an attempt to appease anti-government protesters in December 2013. A snap poll was held on 2 Feb 2014, but anti-government protesters, who insist that "reforms" must be implemented before any elections are held, successfully interfered with voting in many districts.
The Constitutional Court invalidated the 2 Feb poll a week later because protesters' disruptions prevented voting and registration from being held on the same day across the country, which is recquired by law.
A new poll was recently scheduled for 20 July, but efforts to officially confirm the date by issuing a royal decree have stalled.
For comments, or corrections to this article please contact: [email protected]
You can also find Khaosod English on Twitter and Facebook
http://twitter.com/KhaosodEnglish
http://www.facebook.com/KhaosodEnglish