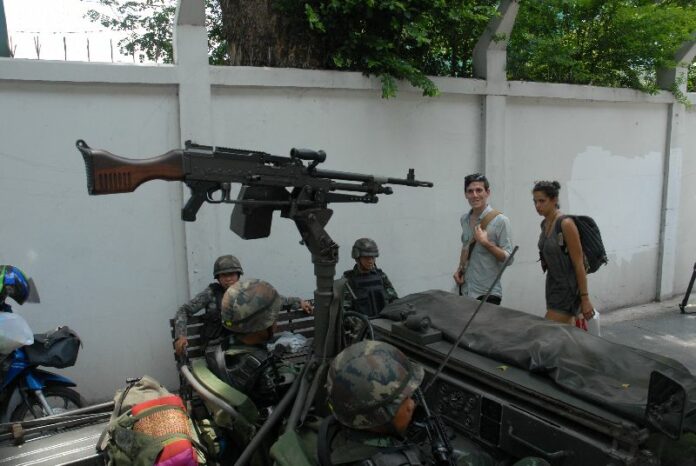 BANGKOK – A prominent trade organisation has claimed that the military's declaration of martial law has frightened many potential tourists away from Thailand, where the tourism industry was already facing a prolonged slump due to the political turmoil.
"The martial law has caused many foreign tourists to immediately cancel their plans to visit Thailand," said Sisdivachr Cheewarattanaporn, chairman of the Association of Thai Travel Agents (ATTA).
Mr. Sisdivachr warned that Thailand could see a 50% decrease in tourists throughout the second quarter of year 2014.
Thai army chief Gen. Prayuth Chan-ocha unilaterally imposed martial over the entire country on Tuesday, with the stated aim of preventing violent clashes between pro- and anti-government protest groups.
The latest bout of political crisis in Thailand, which erupted in last November, has already cost Thailand millions of baht in financial damages, and experts have warned that the recent declaration of martial law will only worsen the situation.
However, Issara Wongkusolkit, chairman of the Thai Chamber of Commerce, explained that the invocation of martial law has achieved a short-term effect of raising the confidence of the public, namely by convincing the Thais and foreigners that a sense of order and authority has been restored.
Though Mr. Issara added that a long-term imposition of martial would likely hurt the country.
Sukree Sitthiwanich, a deputy director of the Tourism Authority of Thailand (TAT)'s marketing and communications department, said the central administration has already instructed local TAT offices in 27 countries to "explain the facts" about the martial law to foreigners, in the bid to ease their worry about Thailand's situation.
For comments, or corrections to this article please contact: [email protected]
You can also find Khaosod English on Twitter and Facebook
http://twitter.com/KhaosodEnglish
http://www.facebook.com/KhaosodEnglish