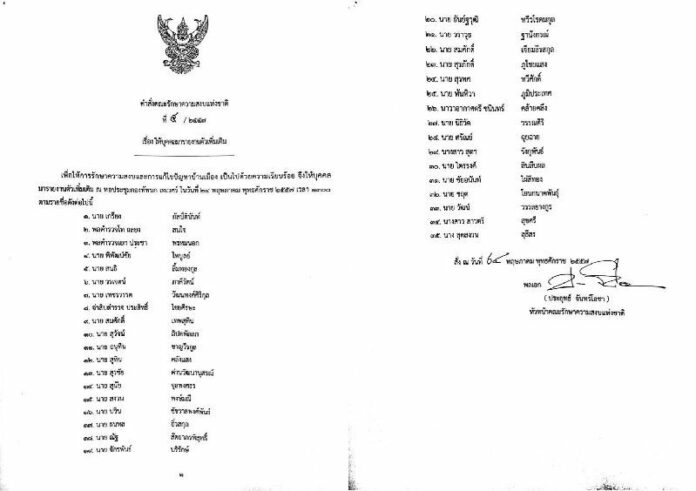 BANGKOK — The military junta summoned for 35 more people to the Army Club, among them activists and academics who spoke out against the coup.
In an announcement broadcast this morning, the National Peace and Order Maintaining Council (NPOMC) said the 35 individuals must report in person to the armed forces at the Army Club in Thevet district, Bangkok, by 4 pm today for the sake of the "peace maintaining effort."
Those who fail to report to the army by 4 pm today will be subject to a maximum penalty of 2 years in prison and 40,000 baht fine.
The list includes prominent political leaders from a cross the political spectrum, such as the firebrand pro-monarchy media mogul who founded the 'Yellowshirts' movement in 2005, Sondhi Limthongku, and former MPs of the Pheu Thai Party, Prasit Chaiyasrisa and Sunai Chulpongsathorn.
However, the list also includes activists and academics who are not officially affiliated to any political party. Among the summoned academics are Somsak Jiamteerasakul, a historian and well-known critic of the Thai monarchy; Worachet Pakeerat, a lecturer and co-founder of the progressive law activist group "Enlightened Jurists"; and Pavin Chachavalpongpun, a political scientist and critic of Thai lese majeste law.
Activists summoned by the NPOMC include Thanapol Eiewsakul, editor of left-leaning Fah Diew Gun (Samesky) magazine, and Sarun Chuichai, transgender student activist who is also known as "Aum Neko."
The academics and activists summoned by the military junta have recently spoken out against the coup, either on the social media or through participating in public rallies.
Yesterday, the military summoned prominent members of the previous government, including former Prime Minister Niwatthamrong Boonsongphaisarn and his predecessor Yingluck Shinawatra. Leaders of the Redshirt movement, which is allied to the former government, were similarly summoned en masse.
When they reported to the armed force, however, the invitees were detained and later transported to "safehouses" designated by the military.
"The military detention of senior politicians and civilians is very disturbing and I urge the NPOMC to immediately release them," said Navi Pillay, the UN High Commissioner for Human Rights in Geneva.
Although the latest summons includes pro-establishment figures such as Mr. Sondhi, opponents of the former government have been previously released from military detention, such as former Prime Minister Abhisit Vejjajiva, who was rounded up with other pro- and anti-government politicians when the army staged a coup on Thursday.
Human rights activists argue that the NPOMC's summon orders are being used to silence the movement critical to the military takeover. Five anti-coup demonstrators were arrested yesterday by the military.
Earlier today, Amnesty International released a statement criticising the army's detention of peaceful anti-coup demonstrators. The organisation calls such behaviour "a dangerous precedent."