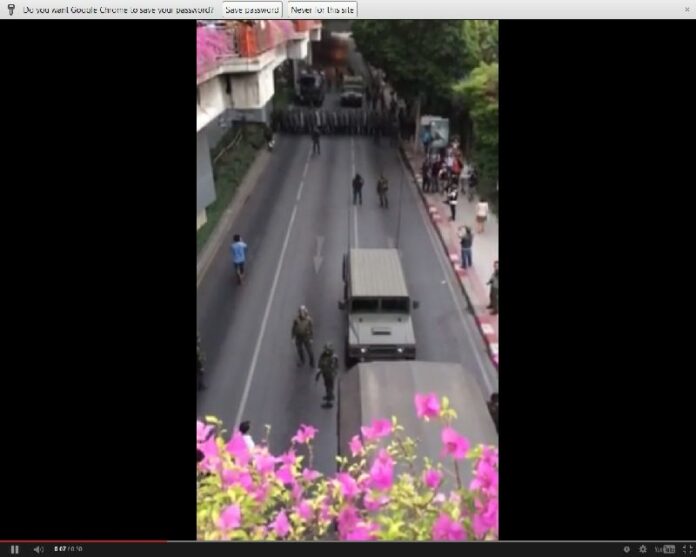 BANGKOK — The military officer who berated anti-coup protesters and called the foreign media "scoundrels" at a protest at Victory Monument earlier this week was not a military officer after all, the army has claimed.
According to deputy army spokesperson Col. Sirichan Nga-thong, the man behind the loudspeaker was an imposter who collaborated with anti-coup protesters to smear the Thai army.
"At this moment, there has been dissemination of texts or video clips that intend to portray soldiers as power abusers," Col. Sirichan said, citing the video clip of an an hour-long rant against anti-coup protesters and foreign media emanating from an army humvee at the anti-coup protest at Victory Monument on 26 May.
The video, which has since been blocked in Thailand, captures a speaker accusing anti-coup demonstrators of being unpatriotic "scums" who are being paid to protest. He also directs an unusual amount of scorn towards the foreign press covering the protest, going as far as calling them "scoundrels" who want to sabotage Thailand.
However, Col. Sirichan insisted that the speaker in question was a provocateur "dressed up in military uniform," and said that the anti-coup movement is circulating the video clip to vilify the army.
"Such action is inciting hatred against security forces. I beg you to stop," Col. Sirichan said in a press conference yesterday. "I insist that all soldiers perform their duty with restraint in every aspect."
Col. Sirichan also threatened to take legal action against those who published the video clips.
Curiously, during the several hours in which the alleged imposter was manning the loudspeaker from inside an army humvee, none of the surrounding military personnel made any effort to stop him.
In the past week, military spokespersons have made a number of bold assertions that appear to lack substantial evidence.
When a photo of a crying soldier went viral on the internet over the weekend, the army came out with a public statement clarifying that the soldier was crying from pepper spray fired by an anti-coup protester, not sympathy for the demonstrators his troops were trying to contain. Witnesses at the scene did not report seeing any use of pepper spray.
On Monday, another army spokesperson accused anti-coup demonstrations of being organised and funded by tuu maa (illegal slot machine) mafia, who allegedly pay each demonstrator 400 – 1,000 baht to join protests.
The military has repeatedly warned the media not to report any material that might "incite unrest" or undermine the mission of the National Council of Peace and Order (NCPO), which seized power from the former government on 22 May. The NCPO has already blocked over 200 websites, and is drafting plans for a internet gateway that will allow the military to censor online material more efficiently, Prachatai English reports.
For comments, or corrections to this article please contact:[email protected]
You can also find Khaosod English on Twitter and Facebook
http://twitter.com/KhaosodEnglish
http://www.facebook.com/KhaosodEnglish