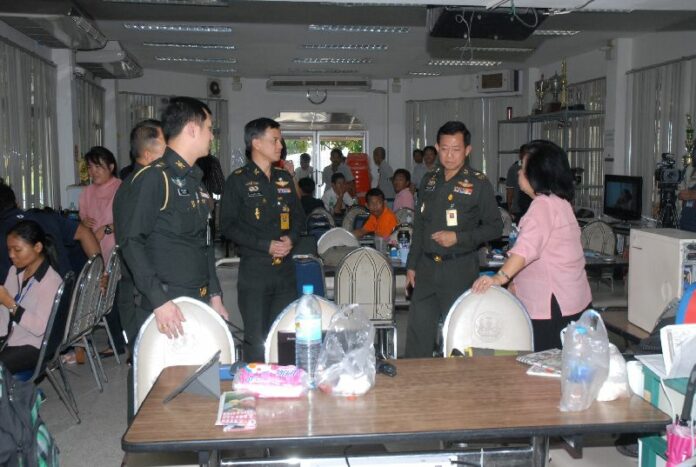 BANGKOK — The military junta has vowed to quiet anti-coup sentiments both in and outside Thailand through a public relations task force that will "create understanding."
"We have conducted a meeting to organise a public relations agency, covering both a domestic and foreign audience," said Col. Winthai Suvaree, a spokesperson of the National Council of Peace and Order (NCPO). "The meeting was about designating public relations methods for creating understanding among the people."
"Some countries still don't understand the NCPO's operations and the current situation in Thailand," Col. Winthai added.
In reference to the anti-coup demonstrations cropping up in foreign countries, Col. Winthai assured reporters that "the NCPO is monitoring the groups" and that the junta plans to "create understanding among Thais living in foreign countries" as well.
The spokesman explained that the mission to spread understanding in Thailand will be accompanied by strict legal enforcement against people who organize themselves and express their resistance to the NCPO. He described recent anti-coup protests as part of "a movement that aims to create chaos or incite division among the people."
Col. Winthai added that the army is especially concerned by anti-coup protesters' coordination via social media. On Sunday, anti-coup protesters staged a flash demonstration organised through Facebook, Twitter, and Line.
"We will employ an electronic blockade and issue a warning by electronic means," Col. Winthai said. "However, we have no policy to shut down Facebook. We will focus on monitoring and dealing with individuals."
Since the NCPO seized power on 22 May, the military junta has closed down scores of TV and radio stations, blocked websites sympathetic to the anti-coup movements, summoned and detained hundreds of activists and academics, and arrested some demonstrators who campaigned against the coup.
The latest arrest took place today, when police in Bangkok's Thoong Maha Mek district detained and interrogated a motorcycle taxi driver who was handing out anti-coup leaflets.
Police say the motorcyclist, Damri Rinwong, confessed to distributing the leaflets because he did not agree with the coup. He has been reprimanded and released by the police, said Pol.Lt.Col. Siam Insuwanno, adding that Mr. Damri will be sent to the military if he is found committing the crime again.