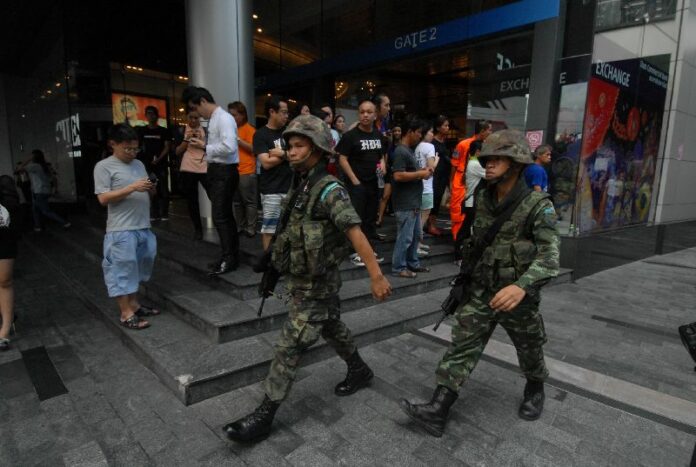 PHUKET — The military-imposed curfew has been lifted in Phuket after decimating the island's world-renowned nightlife for twelve days.
The curfew, initially set at 10pm and later moved back to midnight, was lifted in Phuket, Pattaya, and on Samui Island – all popular nightlife destinations – this afternoon. The curfew remains in place for the rest of the country.
"Our revenue has dropped by 70-80%" said Weerawit Kruesombat, chairman of the Patong Beach Entertainment Society. "The damage has caused a chain-reaction, all the way from owners of nightclubs to the nightclub staff, tuk-tuk driver, hotels, and vendors."
Last night, dozens of entertainment representatives rallied in front of a police station on Patong beach to voice their opposition to the curfew.
The demonstrators gave Phuket Governor Maitri Inthusut a letter addressed to the NCPO, asking for the curfew on Phuket to be repealed.
The curfew, imposed by the National Council of Peace and Order (NCPO) hours after it seized power from the previous government on 22 May, initially forbid citizens to leave their residence during the hours of 10 pm to 5 am, but was later eased to between midnight and 4 am.
Mr. Weerawit said that the easing of the curfew did not help improve the situation in Patong at all.
"Some nightlife venues adjusted their hours to open earlier to compensate for the early closing time," Mr. Weerawit said. "But there were hardly any customers at all, because tourists who visit Patong usually go out to nightclubs around 10 pm or later."
Mr. Weerawit added that the situation was made even worse by the arrival of the rainy season, which is considered to be the annual "Low Season" of tourism in Thailand.