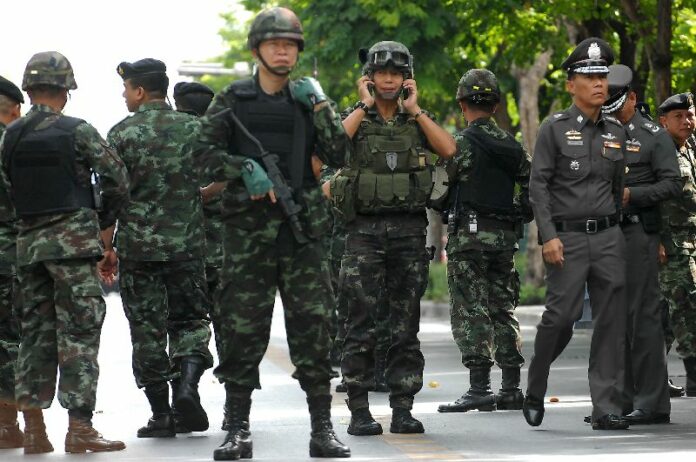 BANGKOK — Prominent politician and Redshirt leader Singthong Buachoom said he was greatly frightened when soldiers woke him up and arrested him in his home on Monday.
"I was so surprised because the NCPO never summoned me to report to them," Mr. Singthong said, referring to the military junta's National Council for Peace and Order (NCPO). Since seizing power in a coup d'état on 22 May, the NCPO has publicly summoned and detained hundreds of politicians and activists, most of whom were allied with the former Pheu Thai government.
According to the former Pheu Thai MP, a group of armed soldiers arrived unannounced at his home on 9 June and instructed his housekeeper to open the gate for them. Once the gate was opened, they rushed in and searched every room before they found Mr. Singthong asleep in his bed.
"The soldiers 'invited' me while I was in my pajamas," Mr. Singthong said. "They said the NCPO had issued a summons for me to report on 10 June, so I told them I would be there on 10 June, but they said no. They told me I had to leave right then and there."
The Pheu Thai MP added that he was "shocked" by the sudden raid because he has not been involved in politics or talked to any Redshirt leaders since the coup.
"Then they took me on a pick-up truck," Mr. Singthong said. "Soldiers with M-16 rifles flanked me. I tried to ask them where they were taking me, but they wouldn't tell me. I asked to use my phone, but they said no."
Once he arrived at the military camp, Mr. Singthong was asked by a group of military officers to "cooperate" with the NCPO's stated mission to reconcile the country's political divisions and restore happiness to the people. Mr. Singthong said he was also asked to give his opinions on a variety of political issues, such as the proposal by conservative politicians that the votes of Bangkokians are more valuable than those from Thailand's rural provinces.
After "a long talk" Mr. Singthong said he was let go without signing any conditions of release. Most detained politicians and activists have been forced to promise they will not participate in any political activities.
Mr. Singthong said he later received a formal apology from Col. Songwit Noonpakdee, the commander of the raid on his house, who reportedly admitted that the soldiers were wrong to detain him in such way.
"He said, 'If you ever talk to the press, please tell them I apologize for the action of the soldiers,'" Mr. Singthong told Khaosod. "He apologised to me and my family."
In a statement released today, Human Rights Watch (HRW) condemned the Thai military's arbitrary arrests of politicians and activists and cited the case of Mr. Singthong specifically.
"The military needs to stop summarily arresting anyone they want and taking them to undisclosed locations," said Human Rights Watch's Asia Director Brad Adams.
The human rights group also called upon the Thai military to confirm the location of a Redshirt activist that has been secretly held for nearly two weeks. Under martial law, the military is only permitted to detain citizens without charges for up to seven days.
According to HRW, Kritsuda Khunasen has not been seen or heard from since the military arrested her during a raid on Redshirts in Chonburi province on 28 May.
"Kritsuda and all the others held without being charged with a credible offense should be freed immediately," HRW's Mr. Adams said.
For comments, or corrections to this article please contact: [email protected]
You can also find Khaosod English on Twitter and Facebook
http://twitter.com/KhaosodEnglish
http://www.facebook.com/KhaosodEnglish