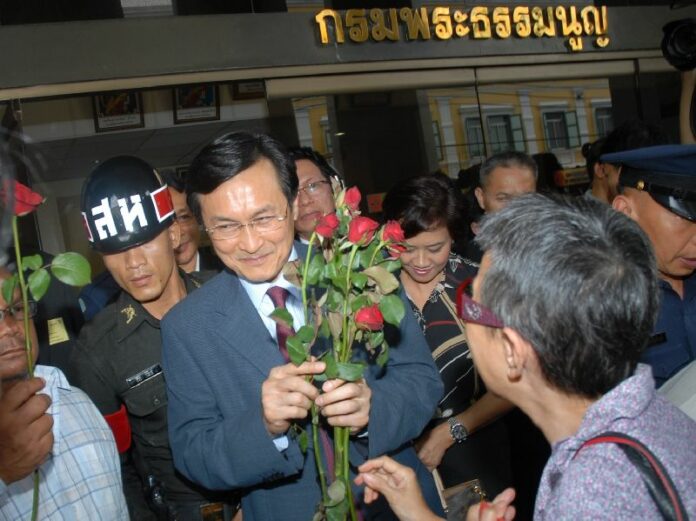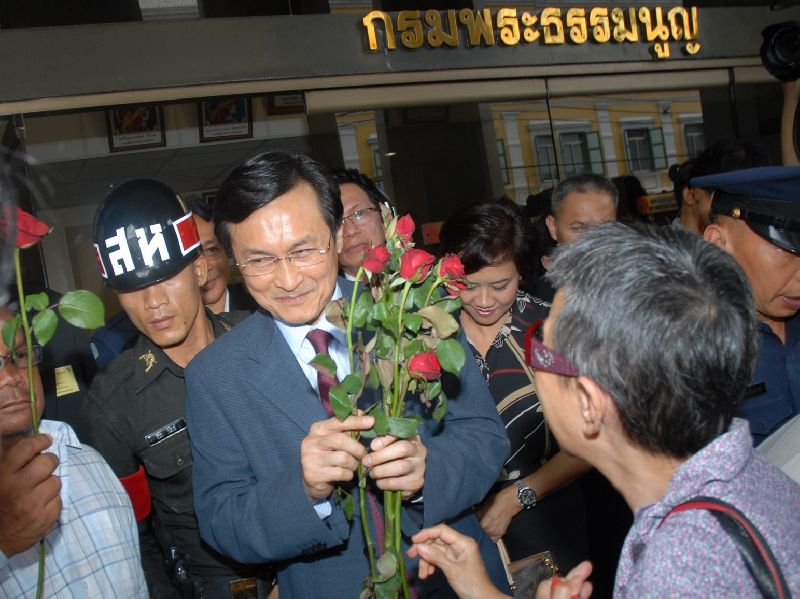 BANGKOK — A cabinet member of the former government could face up to 14 years in prison for the press conference he gave to foreign correspondents prior to his arrest.
Chaturon Chaisang, who served as Education Minister in the previous government, was summoned by the National Council for Peace and Order (NCPO) shortly after it staged a coup on 22 May.
Mr. Chaturon initially refused to surrender himself and went into hiding. Five days later, he staged a press conference at the Thailand's Foreign Correspondent Club (FCCT) in Bangkok to announce that he was willing to turn himself in.
Soldiers stormed the club and detained Mr. Chaturon as he was giving an interview to more than 100 foreign reporters. He was sent to martial court to face charges of defying the NCPO's summons order and inciting unrest, after which he was released on bail.
But at a second court hearing today Mr. Chaturon was informed that he will also be charged with violating the Computer Crimes Act.
Mr. Chaturon told reporters that his prosecutors claimed he violated Section 14.3 of the Computer Crime Act, which criminalises "the input, into a computer system, of any computer data that is an offence related to national security or an offence related to terrorism."
According to Mr. Chaturon, the prosecution argued that his speech at the FCCT, which he typed and distributed to the foreign press, constituted a violation of the Computer Crimes Act. His speech criticized the coup and called for an immediate return to democracy.
The three charges could amount to a maximum of 14 years in prison, Mr. Chaturon said.
"They only told me about the charge of the Computer Crimes Act 15 minutes before the hearing," Mr. Chaturon said. "I am very surprised and suspicious about this irregularity. I wonder if they intended to use it as an excuse for more witness examination so they could ask for the power to detain me."
However, the court rejected prosecutors' request to detain Mr. Chaturon for questioning and renewed the former minister's release on bail.
Mr. Chaturon insisted that he would fight his case to the very end.
"This is the first case in 30 years of a civilian being tried in a military court for having different opinions, " said Mr. Chaturon, a former student activist who watched fellow activists stand trials in military court in late 1970s.
He also insisted that he would continue to use his limited freedom during his bail release to develop and propose ideas for Thailand's democracy.
"I am thinking and reading a lot at the moment, because I can't meet with anyone," Mr. Chaturon said. "When it is appropriate, I will present my ideas. As for now, I would like to comment that in order to have democracy, reforms, and reconciliation, many sides must be able to participate in the process."
The NCPO is currently pursuing a heavy-handed campaign to bring about reconciliation, reform, and "happiness" to Thai society. To accomplish these ambitious goals, the junta has formed "reconciliation centres" for dialogues between rival political groups, established a reform committee, and staged free fairs and concerts around the country.
The campaign has been accompanied by the NCPO's harsh crackdown on any voices of dissent. Since it seized power from the elected government last month, the military junta has summoned and detained hundreds of individuals, censored the press, banned public protests, and threatened to punish anyone who critises the junta's mission.
Despite the junta's ban on public gatherings, moer than 100 people showed up at the military court to express their support for Mr. Chaturon this morning.
For comments, or corrections to this article please contact: [email protected]
You can also find Khaosod English on Twitter and Facebook
http://twitter.com/KhaosodEnglish
http://www.facebook.com/KhaosodEnglish