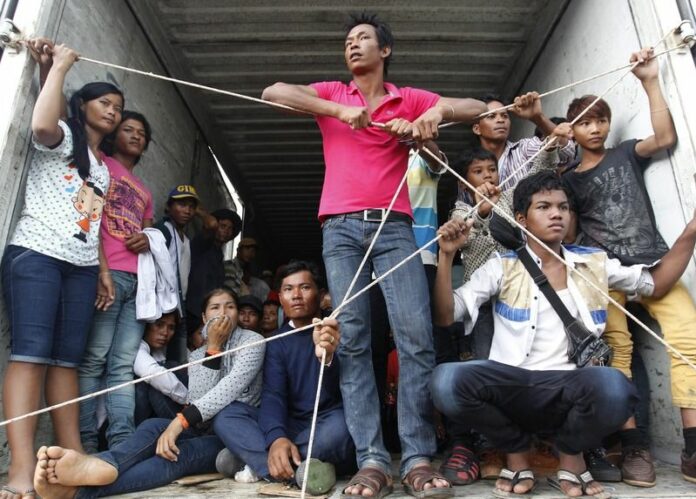 PHNOM PENH (DPA) — Human Rights Watch on Friday strongly criticised the Thai military junta, saying it caused over 200,000 Cambodian migrant workers to flee the country in the past two weeks.
The junta, which took over in a coup on May 22, denied there was a crackdown on migrants, despite having earlier announced that illegal migrant workers would be arrested and deported.
"The Thai junta's new regulations have caused a massive flight of migrant workers, who have long endured abuses from officials and unscrupulous employers," said Brad Adams, Asia director at Human Rights Watch, a US-based organization.
"The junta needs to reverse this disaster by quickly putting into place genuine reforms that would protect migrant workers' rights, not threaten them."
The huge exodus of workers initially caused chaotic scenes at the Thai-Cambodia border crossing of Poipet, but rights workers there say the situation is now under control, with food and water supplies available as well as transportation to take the workers back to their home provinces.
On Tuesday, Cambodia's Interior Minister Sar Kheng placed the blame for the situation squarely on the Thai regime, saying: "I think the current Thai junta leader must be responsible for the problems happening, including loss of lives."
At least eight Cambodians migrants died in crashes en route to the border.
"Migrant workers make huge contributions to Thailand's economy, but their daily life is unsafe and uncertain, and they face abuses from many quarters," Adams said.
"If the military authorities are serious about rights-respecting reforms in the way Thailand handles migrant workers, they should prosecute those who abuse migrants and get rid of discriminatory regulations that violate migrant workers' rights."
There are an estimated 400,000 Cambodian migrant workers in Thailand.