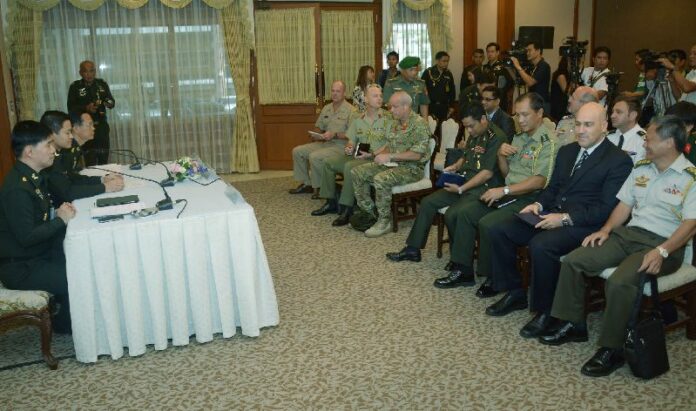 BANGKOK — A senior US official has asked for support from the US Congress to help move Thailand back to a democratic system of government.
"The coup and post-coup repression have made it impossible for our relationship with Thailand to go on with 'business as usual,'" Scot Marciel, Principal Deputy Assistant Secretary of Asian Affairs, said in a congressional hearing yesterday.
"Strong, enduring, bipartisan Congressional support for our efforts to move Thailand back towards its democratic tradition and to preserve our long-term friendship and interests are essential for a successful outcome."
Mr. Marciel told a Foreign Affairs subcommittee that he initially hoped the Thai military would return power to a civilian government soon after staging a coup d'etat on 22 May. "However, recent events have shown that the current military coup is both more repressive and likely to last longer than the last one," Mr. Marciel said.
After the Thai army staged a coup d'etat last month, the United States suspended more than $4.7 million in military aid and cancelled a number of training programs with the Thai military. Mr. Marciel said the US is ready to "consider further measures as circumstances warrant."
Since seizing power, the Thai military junta, dubbed The National Council for Peace and Order, has launched a series of repressive measures to silence dissent. The coupmakers have severely restricted freedom of expression through bans on political demonstrations, media censorship, and arbitrary detainment of perceived critics.
"We do not believe that true reconciliation can come about through fear of repression," Mr. Marciel said yesterday. "The deep-rooted underlying issues and differences of opinion that fuel this division can only be resolved by the people of Thailand through democratic processes."
The US's criticism of the military coup has provoked backlash among pro-coup Thais, most of whom are supporters of the country's conservative and royalist political faction.
Some pro-coup supporters have launched a campaign on social media calling for a "boycott" of products made in or imported from the US as a retaliatory gesture against the American government, though no concrete action has been taken so far.
Anti-American rhetoric has been also been featured on a number of conservative media agencies in Thailand that support the military takeover. For instance, an editorial published by ultra-nationalist Naewna newspaper criticises the US government for "taking stance against the military coup and harbouring prejudice against the Thai authorities without bothering to consider the facts."
"Although the Thai authorities, especially the Ministry of Foreign Affairs, have been unceasingly trying to inform the American authorities about the facts, the American authorities ignore these explanations, and continue to evaluate the situation based on their own opinion, which is in clear contradiction with reality," said the editorial, which was published on 23 June.
Supporters of the coup have frequently argued that foreign critics do not understand the political situation in Thailand. "Thai people are used to coup d'états, it's the Thai style," a pro-Army activist told
Khaosod English
at one of the army's "Returning Happiness" concerts.
"The US is snooping," said the concertgoer, who asked not to be named. "I hear they support coups in some countries, so why not here?"