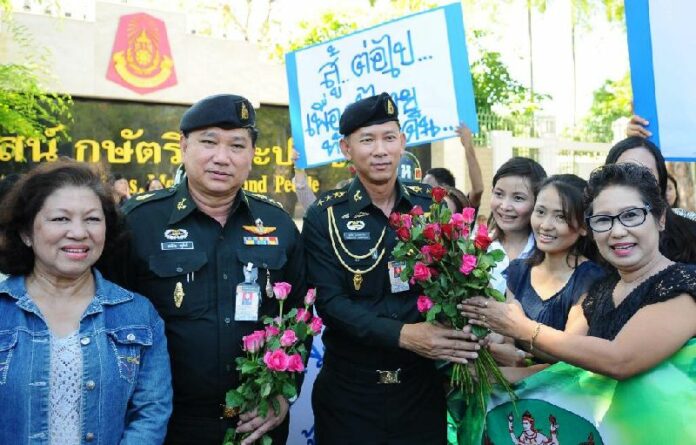 BANGKOK — A majority of Thai citizens are entirely unconcerned by Western governments' retaliatory measures in response to the Thai army's 22 May coup d'etat, an opinion survey says.
The poll, conducted by the National Institute of Development Administration (NIDA), questioned 1,251 citizens from across the country, all of whom hold at least a bachelor's degree, according to the poll data released to media today.
The poll questioned respondents about their concerns regarding the international community's reaction to the 22 May military coup, launched by the National Council for Peace and Order (NCPO).
Western nations, notably the United States and the European Union, have harshly criticised the military takeover and scaled back aid and military cooperation in response.
When asked to rate their concern over the United States' criticism, 55.96% of the respondents said they are not concerned at all, compared to 8.55% who said they are very concerned and 16.47% who said they were somewhat concerned.
In response to questions about the EU's recent sanctions against Thailand, 51.24% said they are not concerned at all, 10.95% said they are very concerned, and 21.74% said they are somewhat concerned. Last week, the EU suspended official visits to and from Thailand and delayed the signing of a cooperation agreement to pressure the military junta to restore electoral democracy.
A majority of respondents also expressed apathy toward the US's decision to downgrade Thailand to the lowest rank of Tier 3 in its annual international human trafficking index; 38.93% said they are not concerned at all by the 2014 TIP Report, 19.90% said they are very concerned, and 27.10% said they are somewhat concerned.
When questioned about which countries respondents feel are "trustworthy" and friendly to Thailand, 41.09% chose "ASEAN members," 32.69% chose China, and 11.91% chose Japan.
Only 3.12% of the respondents described the US as friendly and trustworthy, according to the pollsters.
The survey came amid pro-coup Thais' growing hostility towards Western countries, especially the United States, for criticising the military regime.
Many supporters of the coup are longtime critics of the previous government and hail from Thailand's mostly royalist and conservative political elite. Administrators of NIDA, which conducted the poll, have previously lent support to this political faction's campaign against the former government.
For comments, or corrections to this article please contact: [email protected]
You can also find Khaosod English on Twitter and Facebook
http://twitter.com/KhaosodEnglish
http://www.facebook.com/KhaosodEnglish