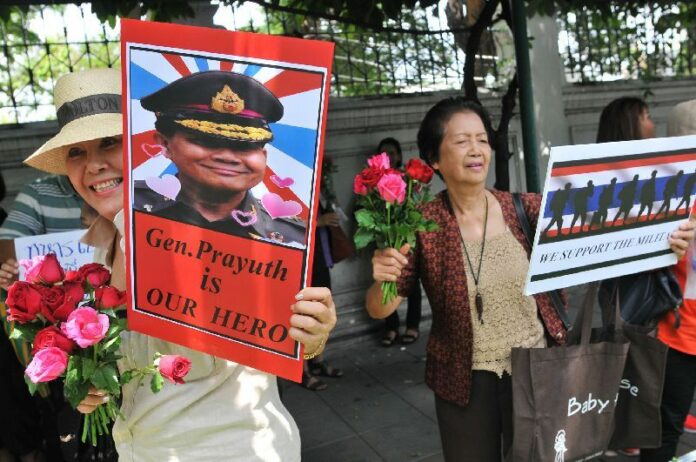 BANGKOK — A majority of residents in southern Thailand, a stronghold of the former anti-government movement, want the military junta chairman to take the title of Prime Minister, a new poll claims.
The survey was conducted by Songkhla-based Hatyai University and unveiled to the press today by assistant professor Korkaew Chankingthong, director of the university's research and development office.
According to the survey, 77.63% of the respondents said they want Gen. Prayuth Chan-ocha, chairman of the ruling National Council for Peace and Order (NCPO), to be the country's next Prime Minister.
Ten percent of respondents said former Prime Minister Anand Panyarachun, who was installed as an interim PM by coupmakers in 1991, should return to take the top job, while 6.74% believe the position should go to Democrat Party veteran Surin Pitsuwan.
More than 95% of respondents said the NCPO should reform Thailand's electoral system to wipe out the alleged existence of widespread vote buying.
Mr. Korkaew did not say how many people were surveyed.
Southern Thailand is considered the home turf of the Democrat Party, which supported the 22 May military takeover and the anti-government protests that preceded the coup. Many supporters of the Democrat Party, which has not won a national election for over two decades, claim that vote buying by other parties has contributed to its repeated defeat in the polls.
Gen. Prayuth, who has assumed command of the country as an interim military ruler, has not publicly responded to the survey.
In his weekly national address on Friday, Gen. Prayuth reiterated his roadmap for the country: the military will adminster the government until October, after which a national reform council and legislative assembly will be formed to govern the country for at least 10 months. Elections will not be held until October 2015 at the earliest, and only if conditions are considered are stable.
For comments, or corrections to this article please contact: [email protected]
You can also find Khaosod English on Twitter and Facebook
http://twitter.com/KhaosodEnglish
http://www.facebook.com/KhaosodEnglish