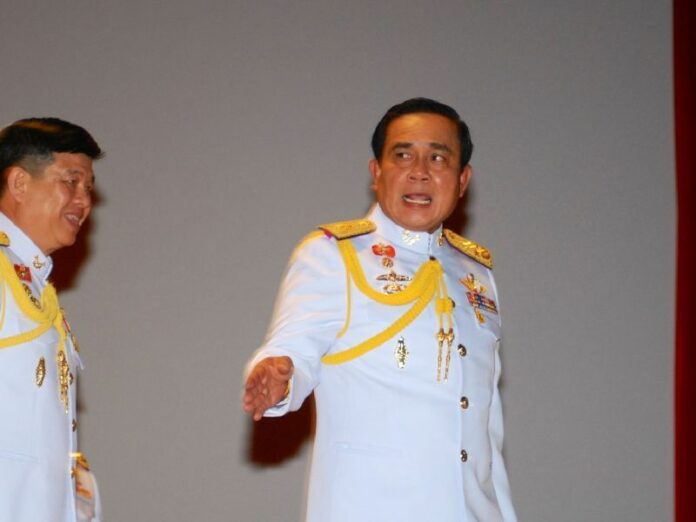 BANGKOK — The chairman of Thailand's military junta has confirmed that he will retain considerable power over the interim civilian government that is expected to be formed in the coming months.
Gen. Prayuth Chan-ocha, leader of the ruling National Council for Peace and Order (NCPO), said in a televised speech last night that the new government will be responsible for administrative works while the NCPO will maintain control over issues related to national security.
"Cooperation between the two branches will be based on consultations, joint meetings, exchanges of information and other forms of meetings when needed," Gen. Prayuth said, according to the official transcript released by the Thai Government House. "Suggestions and proposals will be taken up by the government for implementation measures."
"Other issues will come in the form of recommendations by the NCPO to the government," Gen. Prayuth added.
His comments confirmed the speculation that the NCPO will continue to play a significant role even after a civilian government is formed, which is expected to take place by September of this year.
According to an anonymous source quoted by the pro-coup newspaper Naewna last week, the NCPO may include a section in the provisional constitution that will allow it to veto any action by the interim government.
Gen. Prayuth did not go into detail about the new constitution in his hour-long speech last night, but he did reveal that the charter will consist of 50 sections and will be designed to allow the new government to solve the country's problems in a fast, efficient manner. He also hinted that the charter may not be perfect.
"There may be some limitations in the provisional constitution," Gen. Prayuth said, without elaborating.
Gen. Prayuth says he led the 22 May coup d'etat to put an end to months of political deadlock and prevent an escalation of violence between Thailand's rival political factions.
Starting last November, anti-government protesters embarked on six month protest campaign to topple the government of former Prime Minister Yingluck Shinawatra and replace it with an unelected "people's council." In the weeks leading up to the coup, pro-government activists also descended on the capital city to demonstrate their support for the former government and demand new elections.
Since seizing power, the NCPO has retained full control over the country's administration and issued a harsh crack down on dissidents and vocal political figures, all in the name of "returning happiness to the people."
Hundreds of politicians, activists, academics, and journalists—the majority of whom are supporters of the former government— have been detained by the NCPO and released on the condition that they will not participate in any political activities.
According to the Gen. Prayuth's roadmap for the country, an interim government will be formed in September and tasked with revising the constitution and reforming Thailand's electoral system. The next election will be not be held in October 2015, and only if conditions are stable, he says.
For comments, or corrections to this article please contact: [email protected]
You can also find Khaosod English on Twitter and Facebook
http://twitter.com/KhaosodEnglish
http://www.facebook.com/KhaosodEnglish