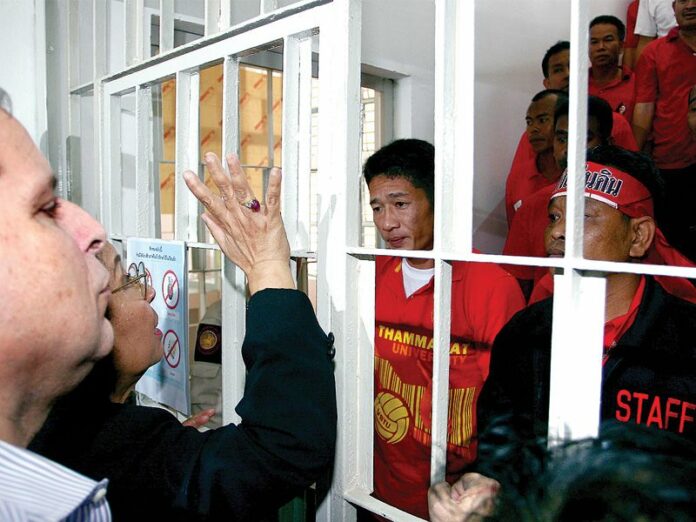 BANGKOK — Thailand's military regime may close down a special jail for Redshirt protesters who have been charged for their alleged role in Thailand's 2010 political violence, prison sources say.
Twenty-two inmates, 20 men and 2 women, are currently being held at Laksi Temporary Prison in northern Bangkok where they await appeal court trials on charges related to the violent clashes between Redshirt protesters and security forces in April – May 2010. More than 90 people were killed in the violence, the majority of whom were civilians.
The prisoners have been charged with organising riots, arson attacks, bomb attacks, and using military-grade weapons on security forces during the clashes.
Sources at Laksi Prison say they have been informed by the Department of Corrections that authorities are considering closing down the special prison, which currently only houses the accused Redshirt protesters, because the facility is costing the state "millions of baht" per year.
The inmates will be sent to various prisons based on their regional residences, the sources claim.
Witthaya Suriyawong, director of the Department of Corrections, would not directly comment on the reports, but said there are many priorities for the Department other than the plan to abolish the Laksi Prison.
The now-toppled government of Prime Minister Yingluck Shinawatra, which is allied to the Redshirts, moved the inmates from general prisons to the special facility in Laksi in December 2011 to acknowledge their status as "political prisoners."
At Laksi Prison, the inmates do not share cells with convicts of other crimes and the prison rules are considerably relaxed. For instance, visiting Redshirt activists have been allowed to cook food for the inmates and meet with the prisoners.
The Yingluck administration was criticised by many progressives for its refusal to also move prisoners convicted or accused of lese majeste (insult of the monarchy) to Laski Prison, despite their status as "prisoners of conscience." Under Thai laws, criticism of the Royal family is a criminal offense that can be punished by up to 15 years in prison.
In November 2013, the Yingluck government attempted to pass an bill that would grant amnesty to the Redshirt prisoners as well as Ms. Yingluck's brother, former Prime Minister Thaksin Shinawatra, who lives in self-imposed exile and faces charges of corruption in Thailand.
Widespread opposition to the amnesty bill ignited a campaign to oust Ms. Yingluck and led to a six-month protest campaign against her government. Ms. Yingluck was eventually removed in a court ruling in early May and the rest of her government was toppled in a military coup on 22 May.
For comments, or corrections to this article please contact: [email protected]
You can also find Khaosod English on Twitter and Facebook
http://twitter.com/KhaosodEnglish
http://www.facebook.com/KhaosodEnglish