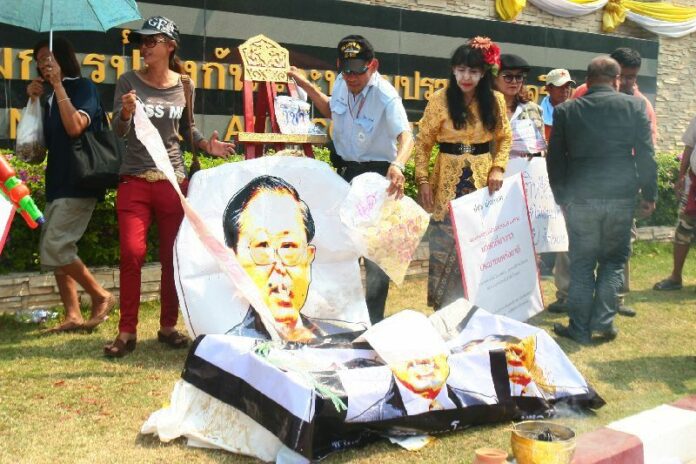 BANGKOK — A prominent member of Thailand's Democrat Party has urged authorities to investigate the former ruling Pheu Thai Party over purchases of expensive amulets and digital clocks.
Former Democrat Party MP Watchara Petchthong urged Thailand's anti-graft agency to examine a Pheu Thai politician's failure to disclose his possession of two expensive amulets and the Pheu Thai-led Parliament's decision to purchase 30 million baht worth of digital clocks last year.
He stated his grievances in a letter to the National Anti-Corruption Commission (NACC) today.
According to the letter, Mr. Watchara believes Mana Kongwutthipanya, an MP candidate of Pheu Thai Party, should be prosecuted by the NACC for deliberately hiding his ownership of two rare amulets in the financial disclosing document he submitted to the NACC.
The two amulets, Phra Prue and Somdet Wat Rakang, are worth more than 34 million baht.
Mr. Watchara also urged the NACC to speed up the investigation of pricy digital clocks installed in the House of Parliament last year. A total of 238 clocks were installed throughout the building while the Pheu Thai Party was in power, costing the state approximately 15 million baht.
Mr. Watchara also called upon the NACC to hold former Division of Special Investigation (DSI) chief Tharit Pengdith accountable for allegedly neglecting to investigate corruption in the former government's rice-pledging scheme.
The Democrat politician claimed Mr. Pengdith turned a blind eye to the program's rampant corruption and rejected the Democrat Party's request to launch an investigation into the scheme in 2013.
"If Mr. Tharit had accepted the rice mortgage case as special case in 2013, the losses [to the state] wouldn't be this great," Mr. Watchara said.
NACC deputy secretary-general Witthaya Arkompitak accepted the complaint and said the Commission will deliberate on the matter.
Last week, the NACC found former Prime Minister Yingluck Shinawatra guilty of failing to prevent corruption in the controversial rice-pledging program.
For comments, or corrections to this article please contact: [email protected]
You can also find Khaosod English on Twitter and Facebook
http://twitter.com/KhaosodEnglish
http://www.facebook.com/KhaosodEnglish