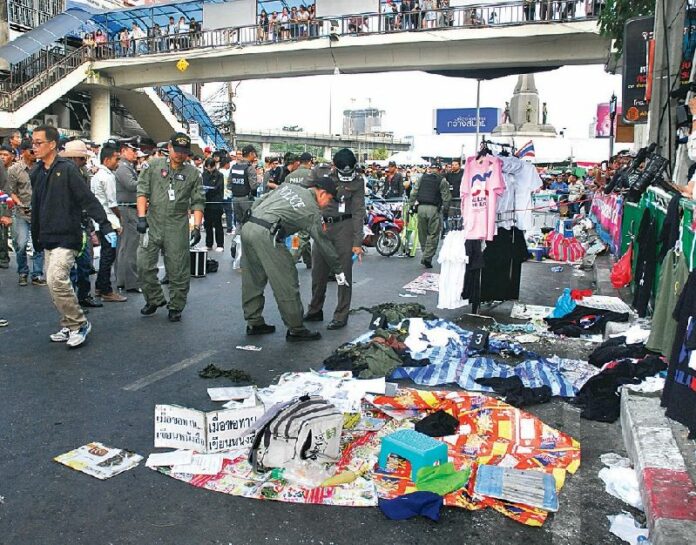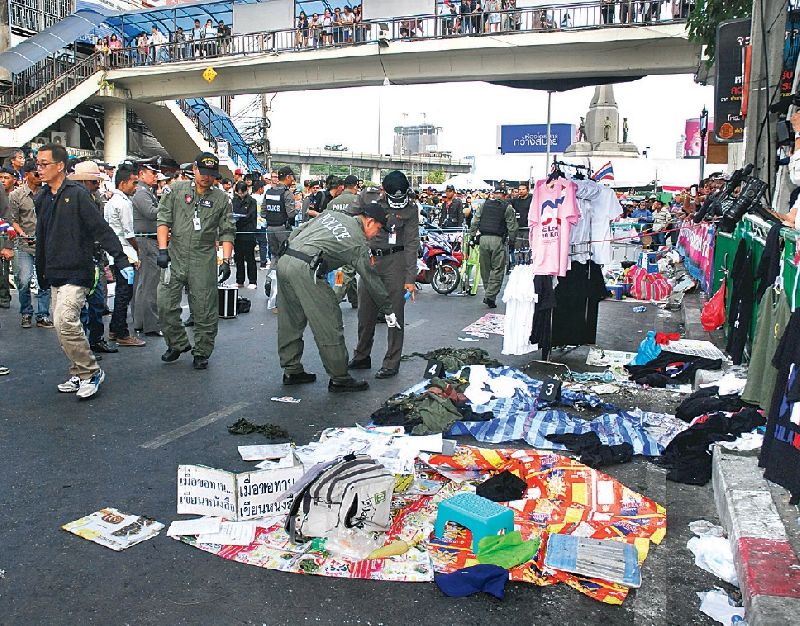 BANGKOK — Police have arrested a Redshirt supporter allegedly responsible for launching grenades at anti-government protesters earlier this year.
Yongyuth Boondee, a native of Roi Et province, was arrested by military officers in Chiang Mai province last night, said Deputy Chief of the Royal Thai Police Somyot Phumpanmuang.
Mr. Yongyuth is accused of launching several M79 grenade attacks around Bangkok during the six month protest anti-government protest campaign by led by the People's Committee for Absolute Democracy With the King As Head of State (PCAD).
According to Pol.Gen. Somyot, Mr. Yongyuth targeted a PCAD protest site in northern Bangkok and another PCAD rally in Rayong province. Mr. Yongyuth also allegedly launched attacks on banks, supermarkets, and government buildings to create an atmosphere of terror in Bangkok.
At the police press conference this morning, Mr. Yongyuth confessed to committing the attacks. The suspect said he supported the United Front of Democracy Against Dictatorship (UDD), the Redshirts' umbrella organization, and was later invited to joined the groups's underground militant wing by one of its members, Chatchawan Prapbumrung.
Mr. Chatchawan was arrested in July and accused of launching similar grenade attacks on PCAD protest sites.
However, Mr. Yongyuth denied the allegation that the militant group was personally commanded by "hardcore" Redshirt activist Wutthipong Kochthammakul, aka "Ko Tee," who went into hiding after he was charged with lese majeste (insult of monarchy) several months ago.
"I have attended UDD rallies that were organised by Ko Tee, but I don't personally know him," Mr. Yongyuth said.
According to Mr. Yongyuth, he and other members of the militant group trained themselves to use M79 grenade launchers and did not receive any help from high-ranking UDD activists. He said they often consumed alcohol to boost their morale before launching the attacks.
Mr. Yongyuth told police he went into hiding in Buriram and Chiang Mai after the military staged a coup against the Redshirt-allied government on 22 May. He has been charged with premeditated murder, causing explosions with intention to harm other people, carrying and using explosive devices without a permit, and possessing firearms and ammunition without a permit.
Almost 30 people were killed in shootouts and grenade attacks on PCAD protest sites during the group's six-month campaign against the former government, which ended in the 22 May military coup.
The coupmakers, led by army chief Gen. Prayuth Chan-ocha, insist that the military intervention was necessary to prevent further bloodshed between the PCAD and the rival pro-government Redshirt groups that were also staging rallies in Bangkok at the time.
For comments, or corrections to this article please contact: [email protected]
You can also find Khaosod English on Twitter and Facebook
http://twitter.com/KhaosodEnglish
http://www.facebook.com/KhaosodEnglish