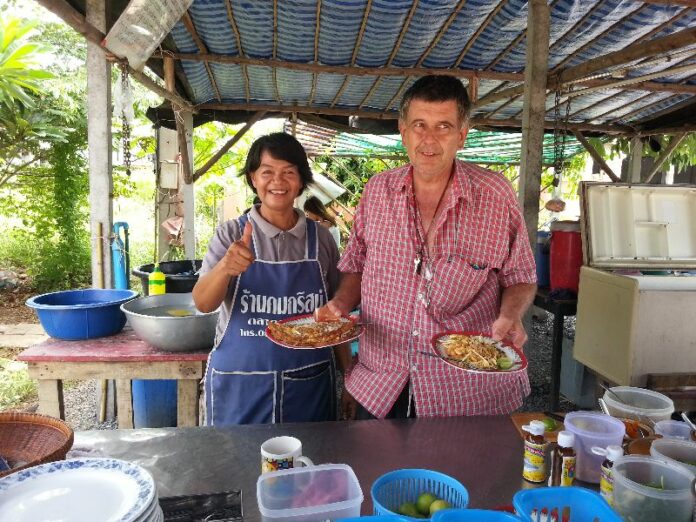 ANG THONG — A Swiss citizen in Ang Thong province is charming local Thais resident with his take on one of Thailand's national dishes, pad thai.
Tony Smith, 54, was busy cooking pad thai and hoi thot (deep fried mussels) for several customers when our correspondent visited his food stall in front of Chai Yo District Municipal Office at lunch time today. He was assisted by his Thai wife, Siriporn Smith, who cooks other dishes for the patrons.
Many customers said they were impressed to see a farang (Caucasian) capable of cooking pad thai, the fried noodles that have become one of Thailand's most iconic dishes.
"I have been eating here for years," said one of the customers, Pannarat Thanaratrungrueng. "I have to admit, I am amazed by Tony's cooking skill … I have never seen any other foreigner with such talent."
Although the stall, called Sor Nai Farang (Mr. S Farang), is widely praised for its pad thai, Mr. Smith said his proudest dish is "sky hoi thot," which he cooks by throwing mussels into the air and deftly catching them in his pan.
Speaking in fluent Thai, Mr. Smith said he used to work as an engineer for a water pump company in Switzerland, but eventually decided to move to Thailand "because I was bored."
"I thought Thailand was a good place to live in, so I decided to come here," Mr. Smith said. He later met and married Ms. Siriporn, who owns a restaurant in Bangkok.
According to Mr. Smith, he fell in love with Thai food while he was dating Ms. Siriporn, whose cooking inspired to learn about Thai cuisine. The Swiss man said he mastered pad thai three years ago and has been helping his wife earn a living by cooking the dish in their hometown ever since.
Ms. Siriporn said her husband was a man who truly loves cooking.
"I think his skill is quite good," Ms. Siriporn told our correspondent. "These days all the customers who visit our stall only ask for Tony's cooking."
For comments, or corrections to this article please contact: [email protected]
You can also find Khaosod English on Twitter and Facebook
http://twitter.com/KhaosodEnglish
http://www.facebook.com/KhaosodEnglish