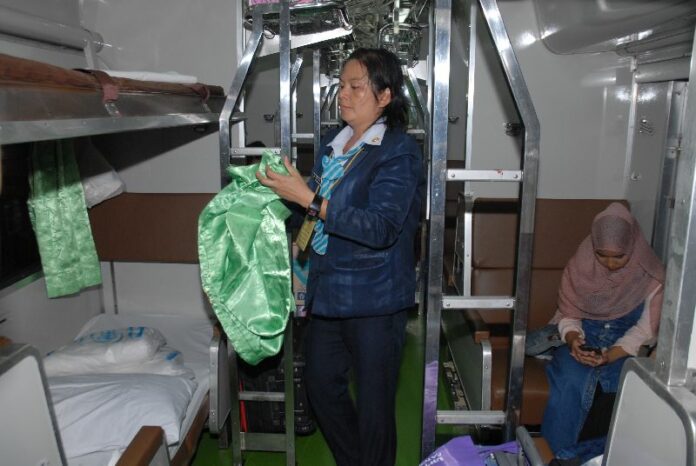 BANGKOK – The State Railway of Thailand (SRT) has unveiled ladies-only sleeping cars, in the wake of the murder and rape on one of its trains by an SRT official last month.
The SRT was widely criticised for its poor security measures after Wanchai Saengkhao, a cleaning staff, allegedly sexually assaulted a 13-year-old girl and threw her body from the moving train on the night of 6 July.
In an effort to restore public confidence, SRT officials led a group of journalists to tour one of its "Ladies & Children Sleeping Cars" at Hua Lumphong Central Train Station in Bangkok today.
Supat Worawattananuthai, director of SRT's Bangkok and Eastern Region Centre, explained that only female passengers, SRT staff, and police officers are allowed to enter the special sleeping car – a measure designed to assure the passengers of their safety. Male staff and officials will be required to register with the female staff before they are permitted into the car, Mr. Supat said.
Male children under age of 10 are permitted to use the ladies-only car, Mr. Supat said.
"We are 100 per cent ready to provide this service to the public," the SRT official told reporters, "The key point of the train is that, apart from all-female officials and police officers, we have installed emergency alarm buttons in all the 40 seats in the car, in case the passengers need help."
Initially, eight trains have been equipped with the special sleeping cars, and the SRT are hoping to install similar carriages on other trains in the near future, officials said. The first ladies-only sleeping car started its first journey at 6 pm this evening.
According to Mr. Supat, the ladies-only sleeping car does not charge any extra fare. He added that the SRT is also "considering" to install CCTVs on all trains to improve the security.
The rape and murder on the SRT train last month sparked a wave of outrage among the Thai public, even leading some citizens to defy the martial law's ban on public protest to stage demonstration calling for death penalty for convicted rapists.
Mr. Wanchai, the suspect, reportedly confessed he committed the crime because he was drunk and high on amphetamines at the time. He is currently awaiting trials for premeditated murder and sexual assault in a prison in Prachuap Kiri Khan province.
Investigation reveals that Mr. Wanchai might have been able to secure his employment through a close relationship he had with another train official, who also allegedly erased the suspect's previous criminal record.
Riding on the public's widespread anger toward SRT Governor Prapat Chongsanguan's negligence and perceived apathy toward the incident, the military junta's National Council for Peace and Order (NCPO) eventually invoked its special power and expelled him from the state railway top job.
While many applauded the decision, some voiced skepticism that the order was politically-motivated, as Mr. Prapat was known to harbour close ties to the deposed government.
For comments, or corrections to this article please contact: [email protected]
You can also find Khaosod English on Twitter and Facebook
http://twitter.com/KhaosodEnglish
http://www.facebook.com/KhaosodEnglish