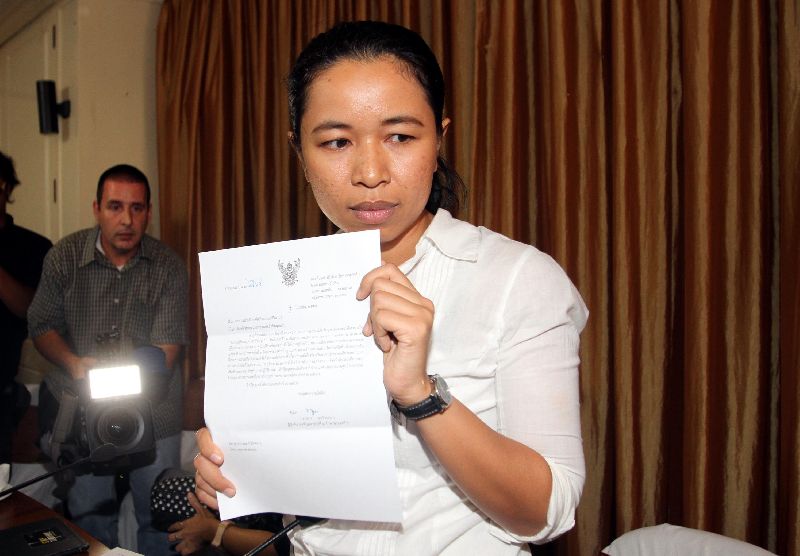 BANGKOK — Thailand's military junta forced a group of lawyers and activists to cancel their panel discussion on the status of human rights in post-coup Thailand today.
The discussion, aptly titled "Access to Justice in Thailand: Currently Unavailable," was slated to feature representatives from Amnesty International Thailand, the Thai Lawyers for Human Rights, and Cross Cultural Foundation at the Foreign Correspondents' Club of Thailand (FCCT) at around 2.30 pm today.
Several hours before the event, the organisers announced that they had received a notice from the junta – formally known as the National Council for Peace and Order (NCPO) – "asking for their cooperation" to cancel the talk.
The panel organisers said they complied with the order and agreed to call off the event, but several of the speakers arrived at the FCCT at 2 pm to explain the reasons behind the cancellation.
As the panelists started to speak, a group of police officers barged into the clubhouse, presented the speakers with a copy of the NCPO letter, and demanded they cease all activities immediately.
The letter, penned by a cavalry commander on behalf of the NCPO, helpfully suggested that any complaints about a lack of access to the justice system or problems associated with freedom of speech be submitted to the NCPO directly via its hotline instead.
It is the second time security officers have entered the FCCT, long known as a sanctuary for free debate in Thailand, in the last four months. On 27 May, soldiers stormed the FCCT and detained former Minister of Education Chaturon Chaisaeng as he was speaking to a crowd of foreign journalists about why he did not surrender himself to the NCPO.
Pavinee Chumsri, a member of the Thai Lawyers for Human Rights, told reporters that today's public discussion was not intended to be a protest against the NCPO. She said her organisation simply demands the NCPO repeal martial law, stop detaining dissidents, put an end to censorship, and suspend all trials of civilians in the military court.
Since staging a coup on 22 May, the NCPO has sought to silence critics by banning public protests, intimidating the media, arresting anti-coup protesters, and trying dissidents in military court, where the legal proceedings are chaired by military judges and access to lawyers is said to be restricted.
Over 300 activists, academics, and former politicians have also been held incommunicado in military barracks for "attitude readjustment."