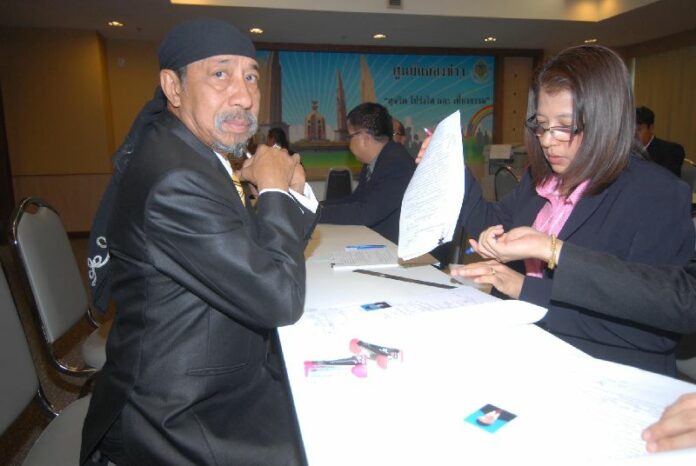 BANGKOK — More than 5,000 people have applied to join the National Reform Council (NRC) since junta chairman and Prime Minister Prayuth Chan-ocha urged more candidates to apply two weeks ago after only 400 names had been submitted.
The registration period closed today with around 6,000 applicants, including Gen. Prayuth Chan-ocha's former school principal Prasert Pudpong.
Mr. Prasert, the director of Wat Nuan Narodit, said he was nominated by his school to join the reform council because he has "full knowledge" of the education system and a genuine desire to reform public schools. In order to qualify to apply for the NRC, candidates must be nominated by their organisation, political party, or company.
The NRC was formed by the junta's 2014 interim charter and will be tasked with proposing reforms across broad sectors of society, including politics, public administration, law and justice, local government, education, economy, energy, public health and environment, mass media, and social affairs.
A screening committee formed last month will nominate up to 50 candidates for each of the categories, after which the junta — formally known as the National Council For Peace and Order (NCPO) — will choose an unspecified number of representatives to join the final council.
The NCPO will also choose one out of the five representatives nominated by 76 provincial selection committees across the country. A total of 250 people will be selected to sit in the NRC.
The famous Thai comedian Sornsuttha Klanmalee, aka Tuarae Chernyim, also showed up to apply for the NRC on the final day of the application period.
Mr. Sornsuttha is known for being an unofficial cheerleader during sports matches between Thai national teams and foreign players.
"If I am selected into the NRC, I will focus on sports science," Mr. Sornsuttha told reporters. "I think Thai athletes' bodies are smaller than foreign athletes. If there is development in this issue, I believe Thai athletes will have more qualities."
Other prominent NRC candidates include retired pop musician Winai Pantharak, flute musician Thanit Sriklindee, and ultra-nationalist activist Veera Somkhamkid, who spent almost four years in Cambodian prison for trespassing Thai-Cambodian border during a campaign to "reclaim" the disputed temple of Preah Vihear in 2010.