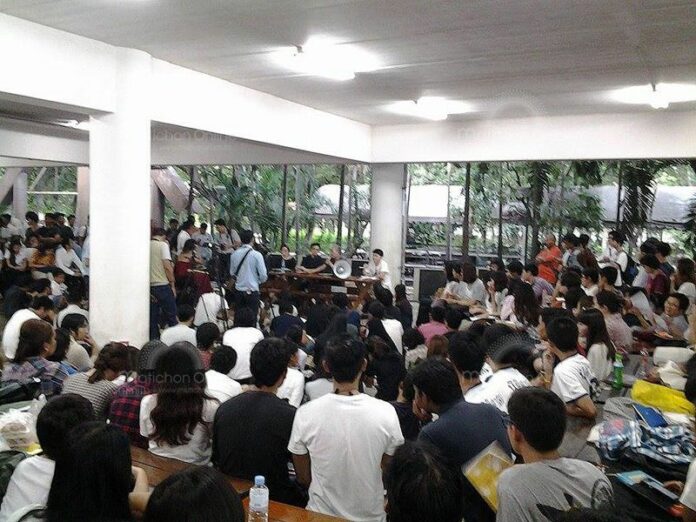 BANGKOK — The Thai military forced a group of activists to cancel their panel discussion on the demise of autocrat regimes around the world, citing the talk's potential to create "divisions in society."
The discussion, titled "Democracy Classroom: Fall of Foreign Dictators," was supposed to take place at a lecture hall in Thammasat University's Rangsit Campus on Thursday. The event was organised by League of Liberal Thammasat for Democracy (LLTD) and slated to feature several high-profile historians.
Several hours before the scheduled event, organisers posted a letter on social media they reportedly received from the 2nd Anti-Aircraft Division instructing them to cancel the discussion.
The letter claimed the activity risked violating the military junta's mission to restore peace and order and could create "divisions in society."
The activists later arrived at the venue to find the door locked by university staff, presumably to comply with the military order. Undeterred, LLTD activists and the historians moved the event to the ground level of the lecture hall and proceeded to broadcast the discussion live on Youtube.
A group of police officers arrived approximately 30 minutes after the talk began and told the activists to immediately cease their activity. When the organisers attempted to continue the lecture, the police detained the speakers and took them to a nearby police station.
The detained speakers include Nidhi Eoseewong, Prajak Kongkirati, Chaowarit Chaowsangrat, Janjira Sombutpoonsiri. The academics, plus three students activists who were taken into police custody, were reportedly released at 9:30pm without charges.
The junta's National Council for Peace and Order (NCPO) has banned all forms of political activity and public protest. Violators have been sent to face trials in military court.
In a statement published on Friday, the president of The International Federation for Human Rights (FIDH) called the arrests "yet another ominous reminder of the military junta's intolerance for any dissenting voices."
The military previously forced a group of lawyers and activists to cancel their panel discussion on the status of human rights in junta-ruled Thailand. A spokesperson of the NCPO claimed the talk, aptly titled "Access to Justice in Thailand: Currently Unavailable," was blocked to prevent dissemination of false information and "prejudice."
For comments, or corrections to this article please contact: [email protected]