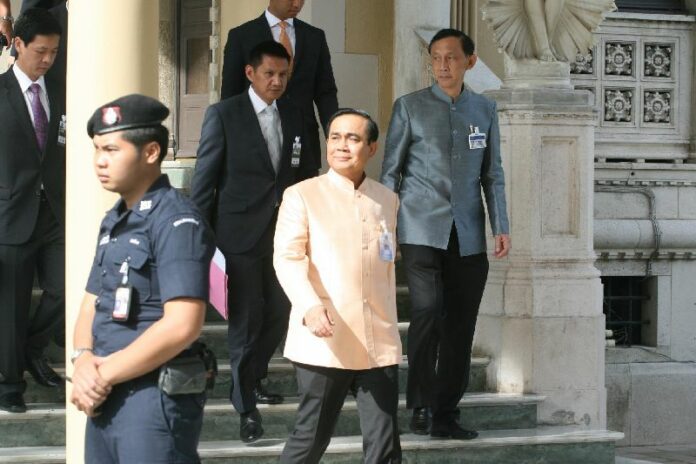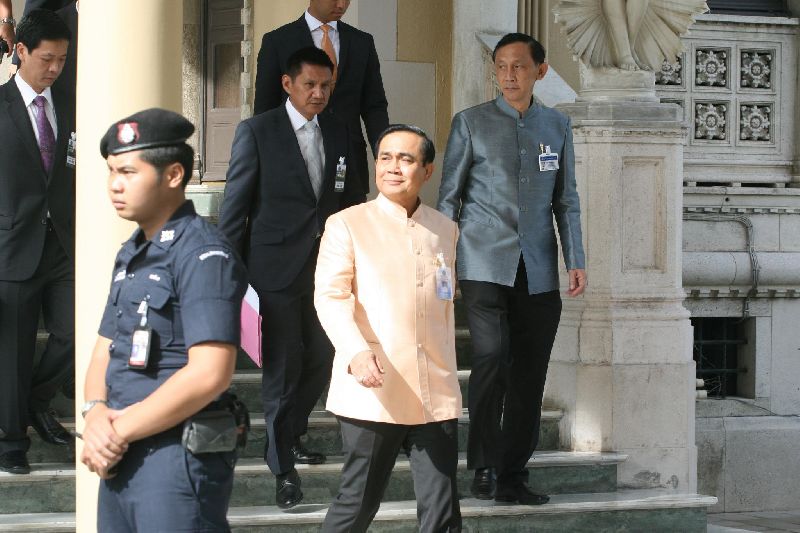 BANGKOK — Following a storm of criticism, junta leader and Prime Minister Prayuth Chan-ocha apologized this afternoon for suggesting that it is unsafe for attractive Western tourists to wear bikinis in Thailand.
Gen. Prayuth made the controversial remark in a speech about tourist safety following the grisly murder of two British tourists on Koh Tao, a resort island in southern Thailand. The female victim is believed to have been sexually assaulted.
"[Tourists] think our country is beautiful and is safe so they can do whatever they want. But I ask: will they survive in Thailand if they dress in bikinis? [Only if] they are not beautiful," Gen. Prayuth told an audience at the Government House yesterday.
After the comments caused a public uproar, especially among British news agencies, Gen. Prayuth agologized and explained that he merely wants foreign tourists to be vigilant of their safety.
"I admit that sometimes I speak too strongly," Gen. Prayuth told reporters at Queen Sirikit Convention Centre this afternoon. "It was because I felt pressured and sad for the victims. I feel sorry for them, no matter if they are Thais or foreigners. I don't want this kind of loss to ever happen again."
"I insist that Thailand is safe, although there are some not-good people here," he continued. "Therefore, they have to be careful. Their country and our country do not have equal safety. I admit I am worried for them."
He later elaborated on the "not-good people":
"We have to help take care of [our nation] and not let not-good people mingle with us, such as unregistered alien workers. We can't let them work like that. It's dangerous and it can cause damage to the country."
Thai authorities previously speculated that Burmese migrant workers were behind the murder and placed a special focus on Burmese residents during their sweep of the island.
Police also raided migrants' quarters and detained at least six Burmese men for questioning, though recent DNA tests cleared them of any connection to the case.
At least one million Burmese migrant workers live in Thailand, many of whom are not registered with Thai authorities. Their vulnerable status, plus widespread discrimination against Burmese in Thailand, means they routinely face abuse at the hands of employers, police, and even members of the judiciary.
UK Embassy concerned
Gen. Prayuth's apology came after the Embassy of the United Kingdom expressed concern over the general's remark. In a statement released today, the UK Embassy said it was seeking clarification from the Thai government about the matter.
As he was speaking with reporters today, Gen. Prayuth said he already talked to representatives from the British embassy.
"I offered my condolences to them," the general said. "I told them I was merely saying that we have different cultures. People should take extra caution, because sometimes tourists think it is safe. But I didn't say Thailand is not safe. Otherwise no one would dare come here."
He added, "Let me apologize again if I spoke too harshly and caused misunderstanding. I apologise for everything."
Gen. Prayuth is known for his abrasive talking style and sometimes puzzling off-the-cuff remarks. He previously told a farmer in Sukhotai province, where he visited last week to inspect the flood situation, that he felt the government may not need to address the problem of farmers' poverty because her gold necklace "looked big."
On 15 September, the general suggested that rubber farmers who want a higher price for their products should go sell rubber "on Mars."
For comments, or corrections to this article please contact: [email protected]