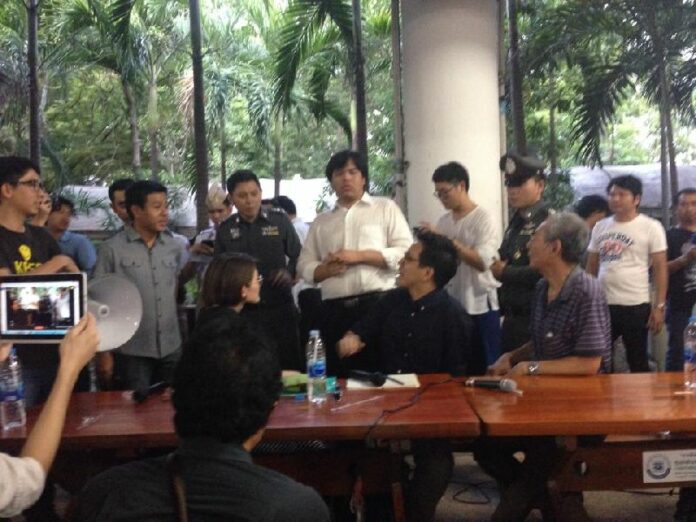 BANGKOK — The military junta's insistence that all academic seminars must be approved by authorities has angered a number of Thai lecturers who are denouncing the measure as an encroachment on free speech.
Gen. Prawit Wongsuwan, a member of the junta's National Council for Peace and Order (NCPO) and the Minister of Defense, said yesterday that Thai academics should not "cross the line" by organizing political discussions.
He was responding to a letter signed by 60 academics from 16 universities across Thailand that condemned the arrest of three student activists and four professors at Thammasat University for organising a panel on the "Demise of Foreign Dictators" on 18 September.
Gen. Prawit defended the military's action as "legal" and said academics who wish to hold panel discussions must seek approval from the NCPO first.
"The NCPO wants to see peace, happiness, and reconciliation," Gen. Prawit said. "Anything related to politics cannot be allowed."
Prach Panchakunathorn, a Chulalongkorn University philosophy lecturer who signed the open letter, lashed out at Gen. Prawit's statement in an interview yesterday.
"Academics never crossed any line. It's the military who crossed the line by arresting lecturers and students inside the premises of the university," Mr. Prach said. "We cannot accept that."
He also insisted that the military has no right to require academics seek permission before organising a public discussion.
"We [wrote the letter] to express our stance, to let the public know that there are academics who don't agree with intimidation by the military and police," Mr. Prach said. "The scale of [the letter's] impact depends on how much importance society and the media will give to this matter."
Hara Shintaro, another signatory of the letter who teaches social science at Prince of Songkhla University, expressed similar disappointment at what he called an "irrational" response by the NCPO.
"In the long term, the NCPO's ban on academic panels will become a disadvantage to the regime," Mr. Shintaro said. "The foreign community will lose their confidence in Thailand even more, because Thai people are not guaranteed the protection of their rights and liberty.
"I have not seen any academic discussion that caused riots, contrary to the fears of the authorities," the lecturer said.
'Shameful' discussion
The NCPO banned all forms of political activity and public protest after seizing power in late May. Violators have been sent to face trials in military court and five anti-coup protesters have been given suspended jail sentences.
In addition to scuttling the panel at Thammasat University last week, the military has forced academics at Chiang Mai University to cancel a discussion scheduled for Thursday, titled "Happiness and Reconciliation Under 2014 Interim Charter."
However, Somchai Preechasilpakul, a law lecturer at Chiang Mai University, told Khaosod yesterday that he is organising another panel to stress that "academic freedom is an important issue."
The upcoming panel will focus on peep, the metal boxes that several lecturers have donned in recent weeks to embody a Thai idiom for feeling shameful. Lecturers at Thammasat and Mahidol University wore the boxes in public to express their "shame" over their university rectors' decisions to join the military junta's national administration.
"Peep is a good way to remind university academics joining the coupmakers in their effort to run the country that they have no legitimacy," Mr. Somchai said. "They should use the time spent on their dual roles to take responsibility for their educational duties instead."
Just today, activist Waranchai Chokechana arrived at Government House wearing a woven basket – a variation of peep – to submit a letter to NCPO leader and Prime Minister Prayuth Chan-ocha protesting the junta's crackdown on academic freedom.
"It's a loss of freedom of thought," Mr. Waranchai said.
Related articles:
NCPO Defends Ban On Political Academic Discussions
Military Blocks Academic Panel On Foreign Dictatorships
For comments, or corrections to this article please contact: [email protected]
You can also find Khaosod English on Twitter and Facebook
http://twitter.com/KhaosodEnglish
http://www.facebook.com/KhaosodEnglish