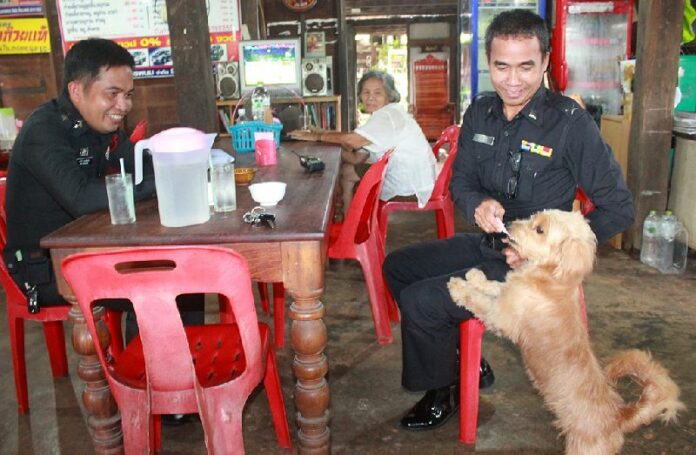 NAKHON PANOM — A restaurant in Nakhon Panom province has achieved local fame for employing a dog to fetch bills and deliver change to customers, carrying the banknotes in his mouth.
While Kallaya Kaewkwan, 49, cooks meals for customers at Mae Boon restaurant, Barry the dog impresses customers with his ability to dutifully ferry money back and forth between the tables and his owner.
"The customers are really impressed by the cuteness and intelligence of this dog," Ms. Kallaya said. "They say they keep returning to the restaurant because they miss him."
Ms. Kallaya said Barry was given to her by relatives when he was only ten days old.
"His mother died, so I fed him with baby milk powder," Ms. Kallaya said.
According to Ms. Kallaya, Barry's intelligence first became evident when he was three years old. While she went out to the street to pay dessert and ice vendors who visited her house, Barry began imitating her by grabbing leaves or plastic bags to "pay" the vendors with, Ms. Kallaya said.
Barry also likes to fetch letters from the mailman for her, said Ms. Kallaya.