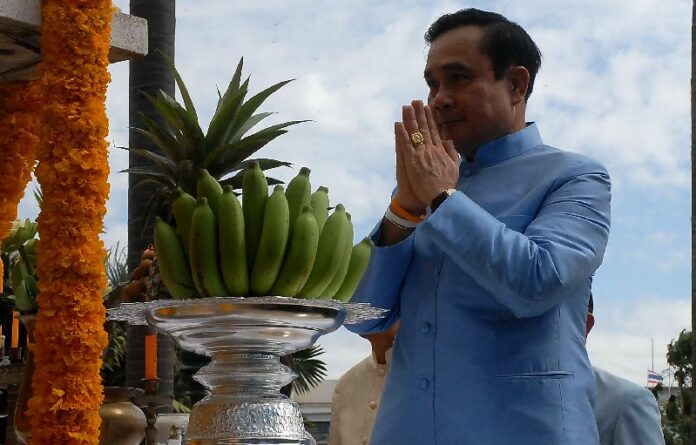 BANGKOK — Junta leader and Prime Minister Prayuth Chan-ocha has encouraged Thais of all different faiths to embrace his teachings, which he has spelled out in a list of "Twelve Values."
"I want every Thai brother and sister to use my Twelve Values to guide their way of life," Gen. Prayuth said in his weekly televised address on Friday. "The Twelve Values are compatible with the principles of all religions, be it Buddhism, Islam, Christianity, Hinduism, Sikhism."
The general also claimed that the country will have "peace and happiness" if Thai people strictly practice the Twelve Values he bestowed to them in July.
"So I'd like to ask every religion to help publicise these Values, and to help devise teaching for people who have different religions," Gen. Prayuth told the nation.
The Twelve Values are the following:
1. Loyalty to the Nation, the Religion, and the Monarchy
2. Honesty, sacrifice, endurance, and noble ideology for the greater good
3. Gratitude for parents, guardians, and teachers
4. Diligence in acquiring knowledge, via school studies and other methods
5. Preserving the Thai customs and tradition
6. Morality and good will for others
7. Correct understanding of democracy with the King as Head of State
8. Discipline, respect for law, and obedience to the older citizens
9. Constant consciousness to practice good deeds all the time, as taught by His Majesty the King
10. Practice of Self-Sufficient Economy in accordance with the teaching of His Majesty the King
11. Physical and mental strength. Refusal to surrender to religious sins.
12. Uphold the interest of the nation over oneself.
The Ministry of Education has already devised a poem inspired by the Twelve Values, which students at public schools across the country will be required to memorise. The Ministry is also working to turn the Twelve Values into a pop song.
Gen. Prayuth, who wields a near absolute power as the Prime Minister and the chairman of the junta's National Council for Peace and Order (NCPO), is increasingly seen as an authoritarian ruler with a growing cult of personality. He has banned all dissent and public protests against his military government, trying violators in military court.
Thailand's state media has been portraying the general as a popular, wise, capable leader who reluctantly staged the coup on 22 May to save Thailand from imminent disaster. Gen. Prayuth regularly lectures the nation about morality during his weekly addresses.
In addition to his promoting the Twelve Values last night, Gen. Prayuth also urged all Thai Buddhists to stop drinking alcohol altogether even after the three-month Buddhist Lent ends next week; Buddhists are encouraged to refrain from consuming alcohol during Lent.
"Next Wednesday is the end of Buddhist Lent. I, in the name of Prime Minister and the Government, would like to express my admiration to all of you who have refrained from drinking alcohol and committing other immoral acts during Lent," Gen. Prayuth said. "But even after the Lent is over, you should not come back to it. If you can quit, please quit right away."
He continued, "If you don't drink alcohol or commit other immoral acts, you will have a good health, the nation will progress, and our citizens will be strong. You won't be a bad example to your children in the future. You know all of this."
For comments, or corrections to this article please contact: [email protected]
You can also find Khaosod English on Twitter and Facebook
http://twitter.com/KhaosodEnglish
http://www.facebook.com/KhaosodEnglish