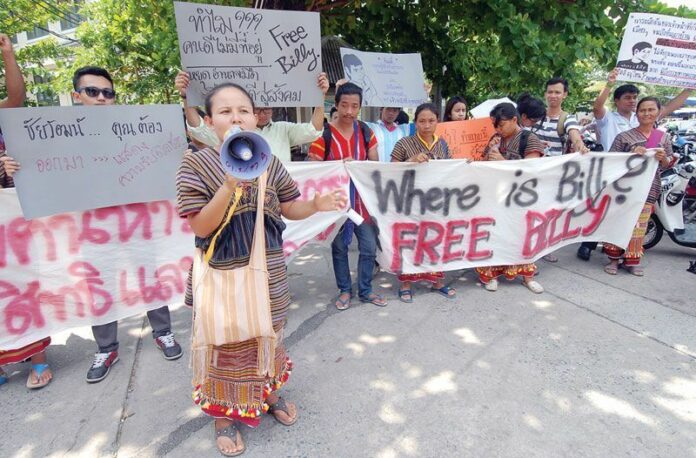 BANGKOK — The director of Kaeng Krachan National Park has been transferred from his post, five months after he was first accused of engineering the disappearance of a local Karen activist in the park.
Chaiwat Limlikhit-aksorn has been moved to the water management department in Prachinburi province, Niphon Chotiban, director of the Department of National Park, told Khaosod yesterday. The transfer will be effective on 6 October.
In April, local Karen communities accused Chaiwat of masterminding the abduction and disappearance of Porlachee "Billy" Rakchongcharoen, a staunch campaigner for the Karens' right to live inside the park. The Karens say they settled in the park before Thai authorities declared it a protected area.
Prior to his disappearance, Billy was organising testimony and documents for a lawsuit filed against Chaiwat and several other park agencies in relation to the alleged burning and destruction of the houses of more than 20 Karen families living in the park in July 2011.
Chaiwat says he and several park officials briefly detained Billy on 17 April to reprimand him for "wild honey theft," but then released him without any charges. The activist has not be seen since.
Chaiwat insists that he was not involved in Billy's disappearance, but local Karens and rights groups have been asking authorities to remove him from the park to allow for an impartial investigation. Chaiwat briefly left the post in May but was reinstated on 24 August.
According to Niphon, the head of national park department, many factors played a role in his decision to transfer Chaiwat, including "complaints from local residents."
Niphon said that Chaiwat was previously allowed to continue his work at Kaeng Krachan National Park because he had to finish his existing assignments.
On 23 September, the Petchaburi Provincial Court accepted a request for appeal from Billy's family, who wanted the court to convene an emergency inquiry into Chaiwat's alleged role in Billy's disappearance. The court previously rejected the request on the grounds that there was "insufficient evidence."
Chaiwat also faces charges of allegedly masterminding the murder of human rights defender Tatkamol Ob-om in September 2011. Like Billy, Mr. Tatkamol had been helping Karen villagers report abuses by park officials. The case is currently before the Phetchaburi Provincial Court.
Read more:
Park Chief Reinstated Despite Links to Case of Missing Karen Activist