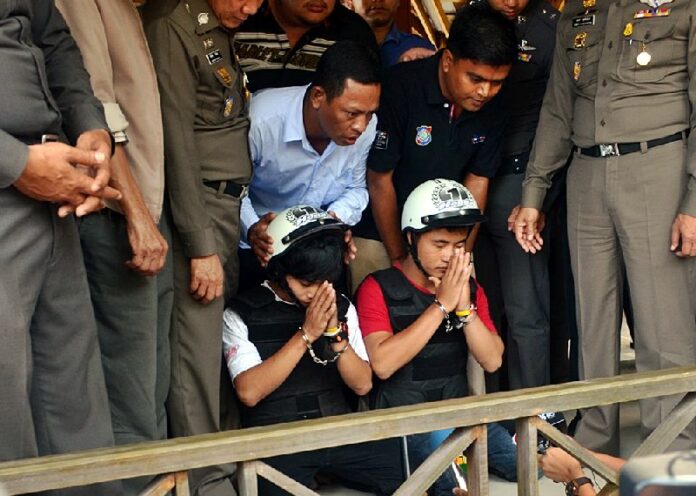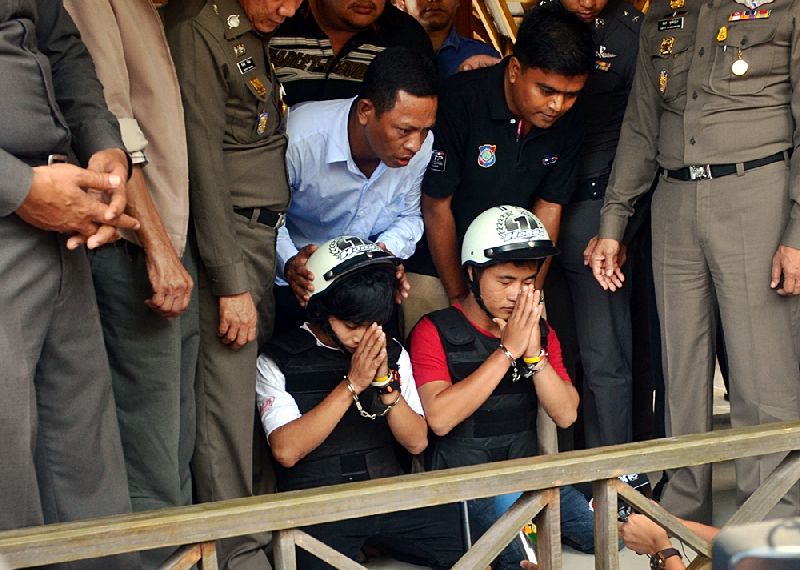 BANGKOK — Thai authorities are insisting that they have not pinned the murder of two British backpackers on "scapegoats" in an effort to wrap up the controversial investigation.
This week, police arrested two Burmese migrant workers and paraded them in public as the culprits behind the gruesome murder of David Miller, 24, and Hannah Witheridge, 23, on Koh Tao island last month.
Thai police have been under immense pressure to solve the killing of the two British backpackers, with authorities worried that the grisly murder could further damage the country's ailing tourist industry.
According to police, the Burmese workers confessed to sexually assaulting Witheridge and murdering her and Miller on 15 September. Police also insist that their confession is backed by DNA tests and CCTV footage in the area.
"Don't say they are scapegoats," said deputy Prime Minister and Minister of Defence Gen. Prawit Wongsuwan when a reporter asked whether he was confident that the Burmese suspects were not being framed.
"The police are doing their job. If the police hear your accusation, they will be sad," Gen. Prawit said.
Yesterday, over 100 police officers led the two suspects, identified as Saw and Win, to the beach where Miller and Witheridge's bodies were found to "re-enact" their alleged crime.
"The two suspects confessed that they are the perpetrators, so I brought them to re-enact their crime to insist that everything is in accordance with [legal] procedures. There has been no coercion or fabrication," said Thailand's chief of police, Somyot Pumphanmuang.
However, he admitted that the two men were not given access to lawyers during their interrogation. He said the suspects did not ask for lawyers because they decided to confess on their own.
Thai police have an extensive history of obtaining false confessions from suspects through abuse. Just last week, two Burmese men told Irrawaddy that Thai police beat them when they refused to confess to the murder.
Senior police officers said they will investigate the allegation.
A number of foreign media agencies have criticized police's handling of the investigation, which after a series of false leads appeared to be reaching a dead end.
For many, this week's arrest appears to confirm police's initial observations that the perpetrator in the murder "could not have been Thai." As a result, the investigation focused heavily on the island's Burmese migrant workers, many of whom are unregistered and lack legal protection.
Pol.Maj.Gen. Kiattipong Khaosam-ang, a commander of Surat Thani Police, said on 16 September that he believed Burmese migrant workers were behind the murder because of the crime's sheer "brutality."
"The behaviour of the perpetrators is too violent for a Thai or a European to do it," Pol.Maj.Gen. Kiattipong said.
According to the island's mayor, Koh Tao residents are "relieved" that the "perpetrators" have been arrested. He also urged a tougher regulation of the more than 7,000 Burmese migrant workers who live on the island to prevent "further problems."
Mainstream Thai newspapers have largely reported in line with the police narrative, referring to the suspects as "murderers" and "culprits."
For comments, or corrections to this article please contact: [email protected]
You can also find Khaosod English on Twitter and Facebook
http://twitter.com/KhaosodEnglish
http://www.facebook.com/KhaosodEnglish