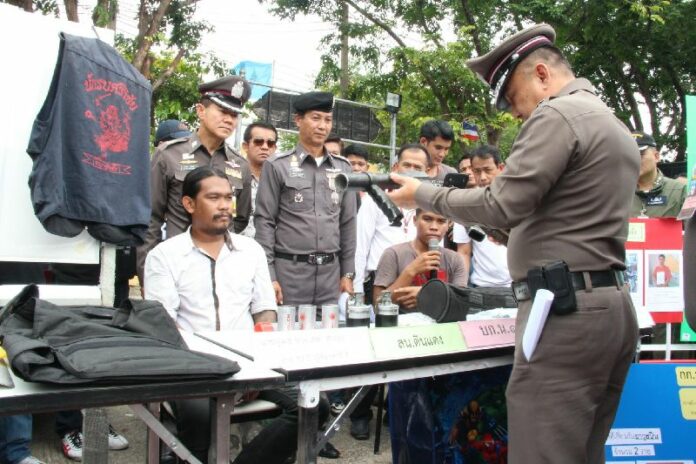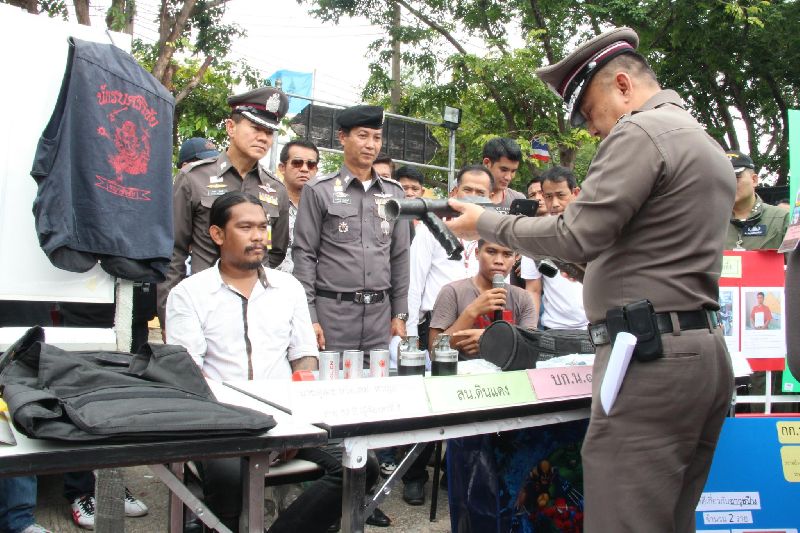 BANGKOK — Police say they have arrested two security guards affiliated with the pre-coup protest movement on suspicion of possessing military-grade weapons.
Chaiya Phan, 21, and Sumet Hansuwan, 32, were arrested in Huay Kwang district of Bangkok over the weekend, police say. Both men reportedly belonged to a security unit of the People's Committee for Absolute Democracy With the King As Head of State (PCAD), which organized six months of street protests against the former government before the military intervened and staged a coup on 22 May.
According to police, a raid on the suspects' residence turned up one grenade launcher, three tear gas canisters, two frag grenades, 62 homemade explosives, and five sets of body armour.
Police did not elaborate how they tracked down the two suspects, but said they were connected to a separate investigation into an illegal drug ring in Bangkok.
Chaiya and Sumet reportedly told police that they had no connection with the weapons, which they said belonged to a "friend" who dropped them off during the PCAD protests.
Both men have been charged with possessing illegal firearms and explosives.
The PCAD's anti-government campaign was marked by occasional clashes with security forces and attacks from unidentified assailants that killed nearly 30 people over the course of six months.
There were also several incidents of PCAD guards attacking bystanders, including alleged assaults on motorists who attempted to move their traffic cones.
The Thai army eventually dispersed the protesters after staging a coup on 22 May with the stated aim of restoring "peace and order." Since seizing power, the military has largely heeded the demands of the protesters by post-poning elections to implement widespread national reforms.
For comments, or corrections to this article please contact: [email protected]
You can also find Khaosod English on Twitter and Facebook
http://twitter.com/KhaosodEnglish
http://www.facebook.com/KhaosodEnglish