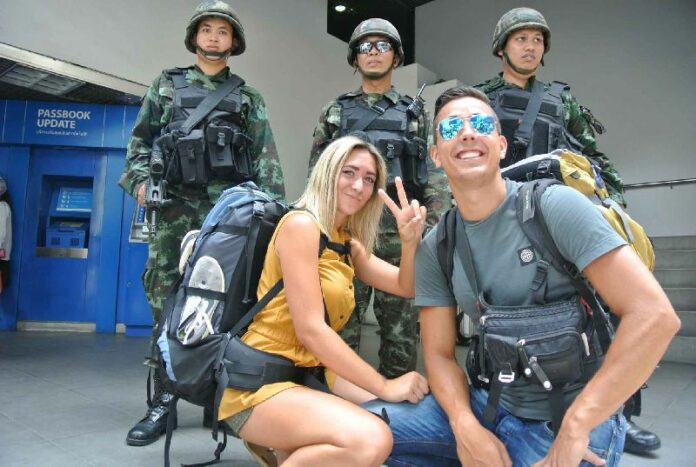 BANGKOK — The Tourism Authority of Thailand says its preparing to add one more tourist attraction to the Kingdom's long list of temples, beaches, and mountains: life under martial law.
"The TAT is preparing a campaign called '24 Hours Enjoy Thailand' to attract foreign tourists to visit Thailand under martial law," TAT Governor Thawatchai Arunyik told Thai Rath newspaper on Friday.
Thawatchai said that martial law is beneficial to tourism, because it ensures that foreign tourists can be safe 24 hours a day.
"We want the tourists to be confident that they can travel in Thailand both day and night with safety at all times," Thawatchai said, adding that he hopes to promote this concept by creating a "buzz" on social media.
The military imposed martial law over the entire nation on 20 May and seized power two days later. Human rights activists have decried the sweeping power of the 100-year-old law, which includes the authority to detain individuals and search properties without warrants, ban public protests, and try dissenters in military court.
Experts have also warned that martial law is deterring tourists from visiting Thailand, as evident in the drop of tourist arrivals over the past three months. Tourist numbers were already low from the anti-government street protests that rocked the nation's capital for six months prior to the 22 May coup.
Despite Thawatchai's insistence that martial law brings safety to tourists, there has been a number of high-profile crimes against foreign visitors in recent months, such as the brutal killing of two British backpackers on the popular southern island of Koh Tao in September. The murder remains unsolved.
Last week, an attempted murder ex-convict was arrested on suspicion of sexually assaulting a Danish tourist near the resort town of Pattaya.
Read more:
What Can the Army Do Under Martial Law?