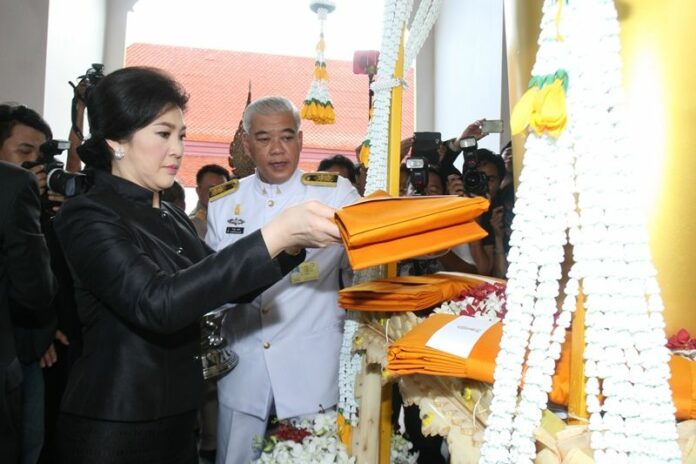 PHAYAO – A well-known Redshirt activist based in the northern province of Phayao claims he has been subject to intrusive "surveillance" by Thailand's military regime.
Siriwat Chupamadtha, a coordinator of the Redshirts' United Front of Democracy Against Dictatorship (UDD), said three plain-clothed military officers are regularly stationed at his home, workplace, and the radio station he regularly speaks.
"They kept telling me that they merely want to ask about how I spend my time in daily life, and how I am involved in political works," Siriwat told Matichon. "They said that I can report to them via LINE messenger on the days that they can't show up, so they would know where I am."
Although the military quickly curtailed the activities of Redshirt activists following the 22 May coup, Siriwat claims the military's surveillance efforts have increased in recent weeks. According to Siriwat, other Redshirt activists in the region have also described being followed by military personnel.
Siriwat suggested that the heightened surveillance may have been caused by the recent funeral of Redshirt leader and former Pheu Thai MP Abhiwan Wiriyachai, for which thousands of Redshirts showed up in a display of solidarity.
It was the first time since the coup that Redshirts, who supported the former government, have gathered in such great numbers as all political activities and gatherings are currently banned by the junta.
Other high-ranking members of the Redshirt movement, such as former Prime Minister Yingluck Shinawatra and UDD chairperson Jatuporn Prompan, attended the funeral to bid final farewell to Abhiwan, who fled Thailand shortly after the coup and died in exile in the Philippines.
Siriwat said he believes junta's National Council for Peace and Order (NCPO) is anticipating renewed Redshirt protests following the possible impeachment of several politicians allied to the previous government, among them former PM Yingluck.
"I was supposed to attend a talk show with Thai PBS TV station in Bangkok on 4 November, but ultimately I decided not to go, because the current situation is really abnormal," Siriwat said.
He added that the NCPO has no reason to be paranoid.
"I would like to tell Gen. Prayuth Chan-ocha, the Prime Minister, that he should not worry about any underground resistance or any other action from the Redshirts," Siriwat said. "Everyone is well aware that the country needs peace right now."
Gen. Prayuth, who led the coup and is also chairman of the NCPO, has promised to hold an election by 2015 if the reform process is completed and reconciliation has been achieved.
CORRECTION: Phayao province is in northern Thailand, not northeastern as was originally reported.
For comments, or corrections to this article please contact: [email protected]
You can also find Khaosod English on Twitter and Facebook
http://twitter.com/KhaosodEnglish
http://www.facebook.com/KhaosodEnglish