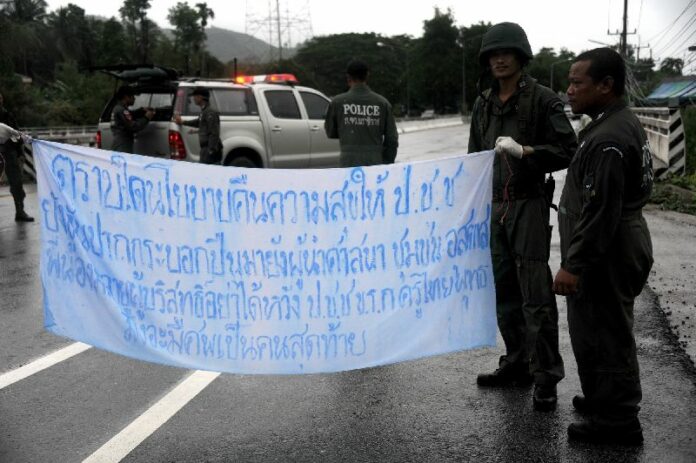 NARATHIWAT — Police discovered four banners in Narathiwat province this morning that threaten to launch more attacks on Buddhist civilians and state officials in the insurgency-plagued region.
The roadside banners were spotted in three Narathiwat districts at around 7.30 am today. Objects that resemble explosives were also placed next to each banner, but they turned out to be fake.

An EOD team looks for bombs near the banners, 17 November 2014.
The banners read, in Thai:
"As long as the policy of 'Returning Happiness to the People' is still about aiming gun barrels at religious leaders, communities, Muslim clerics, and innocent Malay brothers and sisters, Buddhist civilians, bureaucrats, and teachers should not hope that they will be the last dead bodies."
Police suspect the banners were hung by Islamic insurgents who have been staging attacks on security forces and civilians in the Malaysian-border provinces of Narathiwat, Yala, and Pattani, for the past decade.
Last week, a 25-year-old man was injured by a homemade bomb planted at the foot of a banner that expressed support for an independent state comprised of the three southern border provinces.
The banners found this morning appear to be a repudiation of the military junta's "Returning Happiness to the People" campaign, which covers a series of crackdowns and new policies spearheaded by the post-coup military government.
Two weeks ago, the military announced plans to send more guns and armed volunteers to the restive region in an effort to bring about peace within a year.
At least 6,200 people have been killed since the secessionist violence broke out in the three provinces, known as the Deep South, in 2004. The bloody campaign has been waged by shadowy militant groups that seek to revive the independent sultanate of Pattani that was incorporated into modern Thailand in the early 20th century.
In contrast to the rest of country, where the vast majority of Thais are Buddhist, the Deep South is dominated by Muslims who speak a Malaysian dialect and often do not consider themselves Thai.
The "warning" banners appeared several days after security forces killed two alleged insurgent members in Pattani on 14 November, which sparked spate of suspected revenge attacks on a teacher, civilians, and soldiers.
It's believed that separatists frequently target teachers and schools because they are viewed as instruments of a state education system teaching Buddhist "propaganda" to local children. On Saturday, the a 53-year-old teacher was shot dead at her home, making her the 179th teacher to be assasinated in the region since the insurgency broke out.
For comments, or corrections to this article please contact: [email protected]
You can also find Khaosod English on Twitter and Facebook
http://twitter.com/KhaosodEnglish
http://www.facebook.com/KhaosodEnglish