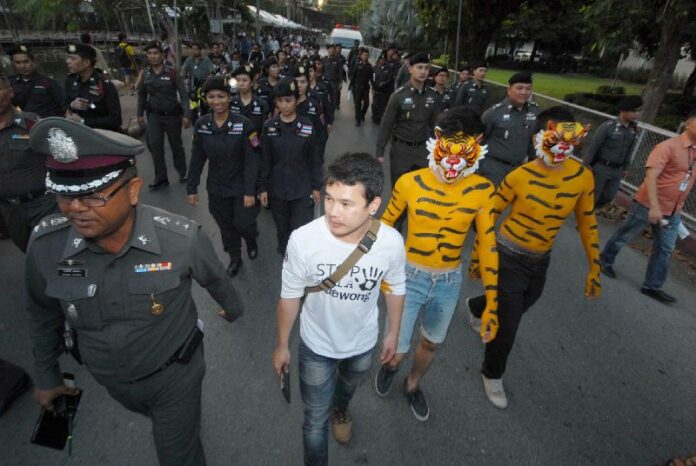 BANGKOK — Police blocked a protest in Bangkok against plans to build a controversial dam in northern Thailand today, citing the military junta's ban on all political activities.
Around twenty activists, some dressed up as tigers and other wildlife, were planning to demonstrate at Kasetsart University in Bangkok this afternoon in protest of the construction of Mae Wong dam in Nakhon Sawan province, which they say would gravely damage the surrounding natural habitat.
However, just before the demonstration was about to begin, police officers from Bang Khen Police Station arrived at the university and asked the demonstrators to disperse.
The police said they could not allow the demonstration to take place because of the ban on protests imposed by Thailand's military junta, formally known as the National Council of Peace and Order (NCPO).
The police also brought the deputy dean of Kasetsart University, Narongchai Pipattanawong, to negotiate with the student activists. The protesters eventually agreed to cancel their demonstration, and no arrests were made.
Kasetsart dean Narongchai told reporters that the students were planning to stage a "symbolic expression" about their opposition to the Mae Wong dam.
"They wanted to urge the government and relevant agencies to think carefully about the consequences that may happen if there is approval for construction of the Mae Wong dam," Narongchai said.
Environmentalists say the Mae Wong dam could destroy large swaths of wildlife habitat and permanently affect the ecology in the region. Critics of the dam also point to the lack of a transparent scientific assessment of the potential negative side effects of the dam.
Protests against Mae Wong Dam preceded the 22 May 2014 military coup, but the movement has been forced to keep a relatively low profile because of the military junta's zero tolerance for protests.