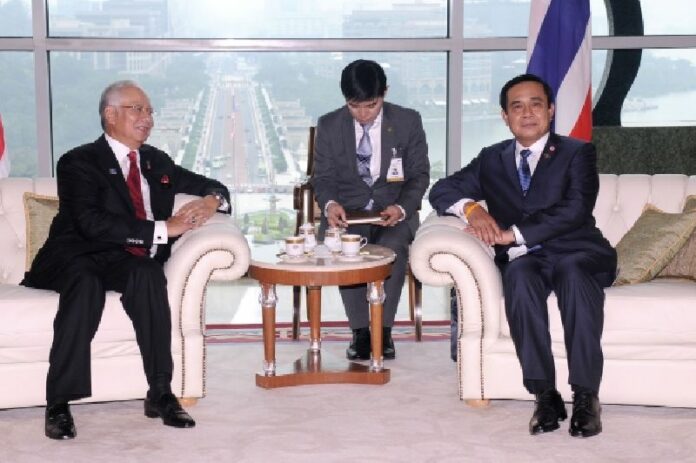 BANGKOK — Thai Prime Minister Gen. Prayuth Chan-ocha and his counterpart in Malaysia have set conditions for potential Malaysian-brokered peace talks between Thai authorities and Muslim insurgents in Thailand's southern border provinces.
The insurgent groups who have been launching deadly attacks on civilians and security forces in southern Thailand must first honour a ceasefire, Malaysian Prime Minister Najib Razak told the press after his bilateral meeting with Thai PM Gen. Prayuth in Kuala Lumpur yesterday.
In addition, all militant groups involved in the insurgency must be represented at the talks and unite around a shared set of demands, Najib said.
"In other words, all the parties must agree to a list of demands or requests that they should put forward to the Thai government and that would be the basis of starting the actual substantive negotiations with the Thai government," he was quoted as saying by The Star.
Gen. Prayuth also stressed yesterday that the new round of peace talks will differ from the former government's effort, which focused on only one of the rebel groups operating in what is known as Thailand's 'Deep South.'
Former Prime Minister Yingluck Shinawatra's government carried out several ground-breaking "peace dialogues" with one militant group in 2013, but the process was derailed after six months of anti-government protests debilitated the central government and paved the way for the military coup led by Gen. Prayuth.
Gen. Prayuth has refused to provide a timeline for his administration's talks, and it remains unclear whether insurgent groups in the south will agree to the ambitions conditions he and Prime Minister Najib have set.
Just yesterday, security officers found dozens of banners across the southern provinces of Pattani, Yala, and Narathiwat, that read: "Is it appropriate to negotiate with the coup government? There is no guarantee for sincerity."
More than 6,000 people — mostly civilians — have died in near-daily violence that has plagued Thailand's Deep South since 2004. The attacks have been launched by a number of shadowy militant groups seeking to revive the independent sultanate of Pattani that was incorporated into modern Thailand in the early 20th century.
In contrast to the rest of country, where the vast majority of Thais are Buddhist, the Deep South is dominated by Muslims who speak a Malaysian dialect and often do not consider themselves Thai.
Yesterday was Gen. Prayuth's first official visit to Malaysia since he was voted into the premiership by a junta-appointed parliament on 25 August. His arrival was met with protests led by political and human rights activists in front of Thailand's embassy in Malaysia.
The protesters held a banner that read "Dictator not Welcome," and also denounced Prime Minister Najib Razak for inviting the Thai junta chairman.
"The reception for Prayuth is an act that recognizes and lends legitimacy to the illegal government in Thailand which grabbed power through a military coup and suppression of democracy since May this year, " the protesters said in a statement.
Read more:
Southern 'Separatist Banners' Dismiss Peace Talks
Protesters Denounce Thai Premier's Visit to Malaysia
179th Teacher Murdered In Restive South
For comments, or corrections to this article please contact: [email protected]
You can also find Khaosod English on Twitter and Facebook
http://twitter.com/KhaosodEnglish
http://www.facebook.com/KhaosodEnglish