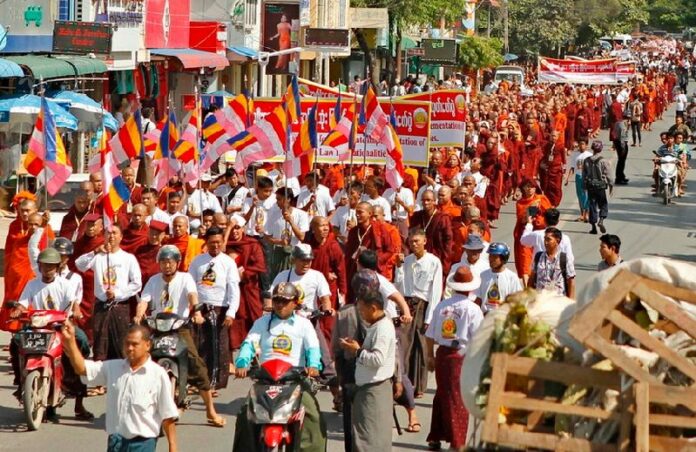 YANGON (DPA) — Four controversial bills, including one to restrict interfaith marriage, have been submitted to parliament in Myanmar for debate and a vote, state media reported Monday.
The government submitted the bills – covering marriage, religious conversion, monogamy and population control – to the parliament late last month, state-run newspaper The Mirror said.
The bill for religion conversion says anyone who wants to convert needs to get official permission, and offenders will be punished by up to two years in prison.

Buddhist nuns, monks and lay people march in a demonstration in favour of a law banning interfaith marriage in Mandalay 30 Oct 2014 [EPA/PYAE SONE AUNG]
Although the latest version of the interfaith marriage bill has not been published, previous drafts stipulated that a non-Buddhist man who wants to marry a Buddhist must convert to her faith or face a jail sentence.
The Ma Ba Tha (Central Nationality and Religion Safeguarding Association), led by a group of senior monks, are pressuring the government of President Thein Sein to enact the laws despite criticism by international and local rights groups.
The interfaith legislation was first proposed by extremist monk Wirathu, who has been blamed for encouraging anti-Muslim hate campaigns that sparked a series of deadly sectarian clashes since mid-2012.
Buddhists make up about 80 per cent of Myanmar's population.
"As there has no official discussion yet on the bills, I don't want to make any comment on it," said Nyan Win, a spokesman for the main opposition National League for Democracy party, led by Aung San Suu Kyi.
The bills are expected to be debated and voted on after parliament reopens in mid-January.