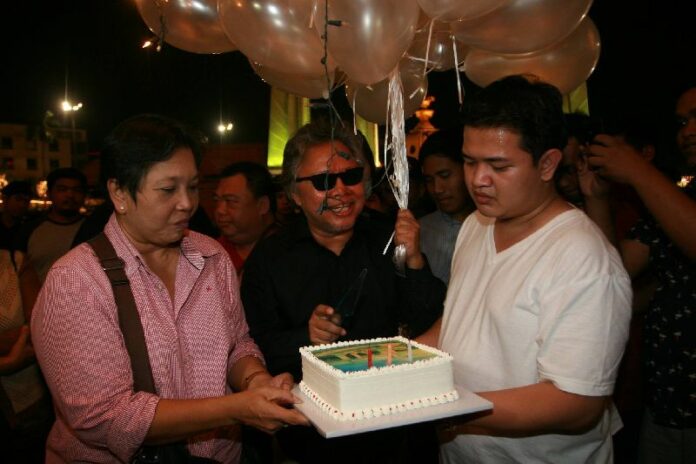 BANGKOK — Anti-coup activists organised a roadside "birthday party" to celebrate Thailand's national Constitution Day amid tight security in Bangkok yesterday.
The "party" consisted of a dozen activists sitting, drinking, and eating northeastern Thai cuisine on a traditional mat laid on the pavement across from Bangkok's Democracy Monument, while dozens of security officers stood guard nearby. A police officer said at least "one company" of uniformed and plain-clothed police was deployed to "maintain peace and order" in the area.
The activists were led by Payao Akhard, the mother of a volunteer medic who was killed in the 2010 military crackdown on Redshirts, and Pansak Srithep, whose 14-year-old son also died in the crackdown.
Payao billed the event as a birthday celebration for her late daughter, Kamolkate Akhard, aka Nurse Kate, presumably in an effort to circumvent the military junta's ban on political activities.
"Kate was born on 7 December, but in the past, when she was still alive, our family always celebrated her birthday on 10 December," Payao explained.
When a group of police officers approached the activists and tried to persuade them to call off their "picnic," Payao refused and insisted that she was merely celebrating her daughter's birthday.
At around 8 pm, Pansak and Payao lit candles on their "birthday cake," which was shaped like Democracy Monument, before serving up slices to fellow activists and security officers.
Pansak saved the biggest piece of cake for military officers who were observing the event from a distance.
"Today is Constitution Day, but since we don't have any actual constitution, we settled for eating a symbol of the constitution," Pansak told reporters. "Normally, I would give out equal sized pieces of cake, but I believe the military has a different definition of equality, so I gave them bigger pieces than everyone else."

Payao (L) and Pansak (C) cut the cake before distributing slices to activists and security officers.
After releasing 20 white balloons to mark the occasion, the activists dispersed peacefully without any incident.
Constitution Day, which is celebrated annually on 10 December as a public holiday in Thailand, commemorates the promulgation of Thailand's first official charter on 10 December 1932, six months after a group of military officers and bureaucrats staged a coup in Bangkok to replace the absolute monarchy with constitutional democracy.
According to the state narrative taught in school textbooks, King Rama VII voluntarily bestowed Thailand's first constitution to the people in response to an attempt by "hot-headed" and "Western-educated" revolutionaries to seize power on 24 June 1932. This narrative virtually ignores the 27 June Provisional Charter penned by the revolutionaries, which was Thailand's actual first constitution and is more democratic in wording.

Gen. Prayuth at the statue of King Rama VII in Bangkok, 10 Dec 2014.
Yesterday Gen. Prayuth Chan-ocha, Thailand's current Prime Minister and junta leader, paid a visit to a statue of King Rama VII at the Parliament complex in Bangkok, where he laid down flowers to pay homage to the monarch.
Thailand has seen 19 charters since it became a constitutional democracy in 1932, making the Kingdom the country with the highest number of charters in the world.
The last constitution, the 2007 charter, was dissolved by the military junta after Gen. Prayuth seized power in May 2014. The junta later replaced it with the 2014 Interim Constitution, and has set up a committee to draft another "permanent" constitution by 2015.