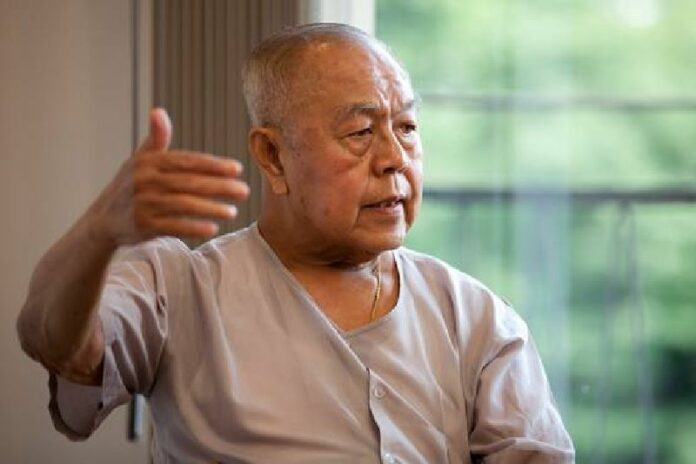 BANGKOK – A Thai historian has been summoned by police for organising an academic forum that allegedly insulted two dead Thai kings.
Police summoned Pipat Krachaechan, who teaches history at Thammasat University, to Chanasongkram Police Station today to testify on the lese majeste (insulting the monarchy) charge that has been filed against a panelist who spoke at his forum on 5 October 2014.
The panelist, historian and author Sulak Sivaraksa, is accused of defaming the monarchy by raising doubts about a historic elephant battle between an ancient Thai King and a Burmese general 400 years ago. He is also accused of insulting Rama IV in his speech at the 5 October forum.
"Mr. Sulak Sivaraksa has referred to Somdej Phra Naresuan the Great and Somdej Phra Chomklao Chaoyookhua (Rama IV) in a way that insults, defames, or threatens His Majesty the King," said a statement released by police today.
Critical remarks about the monarchy are punishable by up to 15 years in prison under Section 112 of the Thai Criminal Code, a law known as lese majeste. Although the letter of the law only specifically covers the King, Queen, Heir-Apparent, and Regent, in practice lese majeste is used to punish comments deemed insulting to any aspect of the monarchy.
The charge against Sulak was filed by a military officer on 17 October. The officer, Lt.Gen. Padung Niwetsuwanm, claimed that the 82-year-old author defamed the monarchy by suggesting that the elephant duel between King Naresuan and the leader of the invading Burmese army, Minchit Sra, in 1593 may not have happened, contrary to the account in official Thai history.
A self-identified "royalist reformer," Sulak has faced previous charges of lese majeste for making frank statements about the Thai Royal Family, though none of the charges have been taken up in court.
Read more: Lese Majeste Filed Against Historian For Questioning Ancient 'Elephant Battle'
For comments, or corrections to this article please contact: [email protected]
You can also find Khaosod English on Twitter and Facebook
http://twitter.com/KhaosodEnglish
http://www.facebook.com/KhaosodEnglish