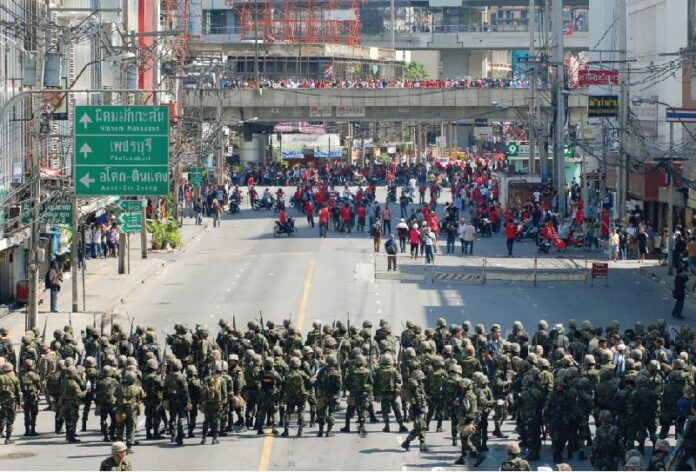 BANGKOK – The Supreme Court has affirmed a suspended jail sentence for a Redshirt leader who wrongly accused a military officer of assaulting a Redshirt demonstrator during the 2009 political unrest.
Siding with the rulings of two previous courts, the Supreme Court sentenced former Pheu Thai Party MP Somkid Banthaisong to six months in prison on libel charges today. The sentence was ultimately reduced to a two year suspended jail term.
Lt.Col. Kriangsak Nantabhodej, commander of the 12th Infantry Regiment, filed the charge after Somkid told parliament on 23 April 2009 that Lt.Col. Kriangsak ordered one of his troops to assault two Redshirt demonstrators as they were confronting a row of soldiers near Ratchaprasong Intersection on 13 April 2009.
At the time, soldiers were clearing Redshirt protesters from the streets of Bangkok. The protesters were calling on then-Prime Minister Abhisit Vejjajiva to dissolve the parliament.
It later emerged that the two Redshirts were attacked by a rival Yellowshirt supporter, Kaweekrai Chokepattanakasemsuk, who did not have any known ties to the military.
In its ruling today, the Supreme Court said Somkid "damaged" Lt.Col. Kriangsak with his accusation, and ordered the former MP to compensate the military officer with 500,000 baht.
The 2009 unrest came to an end on 14 April when Redshirt leaders agreed to surrender and urged protesters to disperse peacefully. More than 90 people were injured in two days of clashes, and at least two bystanders were shot dead by suspected supporters of the Redshirt movement.
The Redshirts later returned to the streets of Bangkok to protest Abhisit's administration again in March 2010. The protests eventually turned violent and was put down by the military on 19 May 2010. The crackdown killed more than 90 people, mostly civilians.
For comments, or corrections to this article please contact: [email protected]