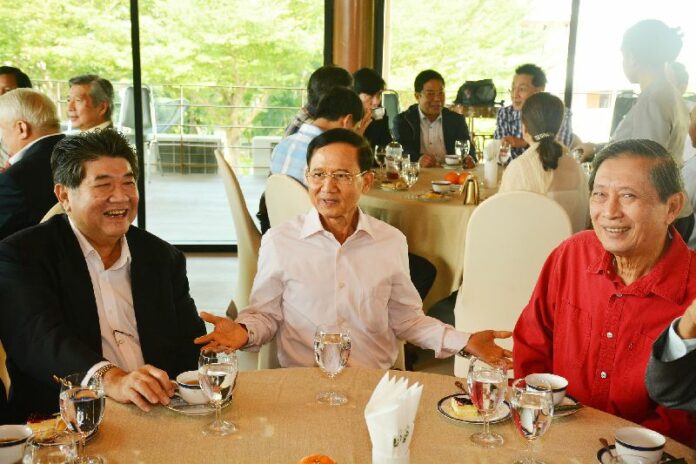 BANGKOK — Former Prime Minister Somchai Wongsawasdi, who is widely supported by Thailand's Redshirt faction, has endorsed the military junta's effort to draft a new constitution.
Somchai delivered the comments to a group of Pheu Thai Party MPs and Redshirt leaders who were visiting him at his residence today.
"I don't want a new charter that will benefit me in the next election. I want it to benefit nation," said Somchai, who is a brother-in-law of former Prime Minister Thaksin Shinawatra.
He continued, "In my opinion, the ongoing drafting of the new constitution has help from many respectable experts. Bowornsak Uwanno [chairman of the Constitution Drafting Committee] is respected and accepted by the people. So, I strongly believe that the new charter will be impartial, universal, and accepted by both Thais and foreigners."
The military junta, officially known as the National Council for Peace and Order (NCPO), dissolved Thailand's 2007 charter when it staged a coup against the Redshirt-backed government on 22 May 2014. The country is currently being governed by an interim charter while the junta-appointed CDC drafts a "permanent" constitution.
The new charter – Thailand's 20th in the past 82 years – is expected to be completed in late 2015. The NCPO has promised to hold a national election after the draft is approved and a series of national "reforms" have been achieved.
Redshirts and other anti-coup voices have denounced the military takeover as undemocratic, raising concerns about the effort to draft a new charter under martial law, which prohibits public protests and criticism of the military regime.
However, Somchai, who briefly led a Redshirt-allied government as Prime Minister in 2008, said he believes the coup was a sincere effort to "take care of the country, solve the conflicts, and lead our country forward."
"We accept and understand it. I want everyone to think of the country, so that the international community will not look down on us," Somchai said. Nevertheless, he stressed that he has not abandoned the Redshirts, explaining that he still feels a "bond" with his supporters and is waiting for the country to return to normalcy.
"Right now, we should let the people who are taking care of the country to do their duty," Somchai advised.
Somchai is married to Yaowapa Shinawatra, a prominent Pheu Thai leader and sister of former Prime Minister Thaksin. Thaksin was ousted in a military coup in 2006, but remains popular among his supporters and is considered the de facto leader of the Redshirt movement. Thaksin-backed political parties have won every national election since the 2006 coup.
Somchai was installed as Prime Minister after the Constitutional Court ousted former Prime Minister Samak Sundaravej in September 2008 because of his appearance on a cooking show.
Two months later the same court dissolved Somchai's party on the grounds that it was involved in vote-buying during the 2007 national election. The party's executive members, including Somchai, were banned from politics for five years.
Following Somchai's removal, the parliament voted Democrat Party leader Abhisit Vejjjivainto the premiership in December 2008.