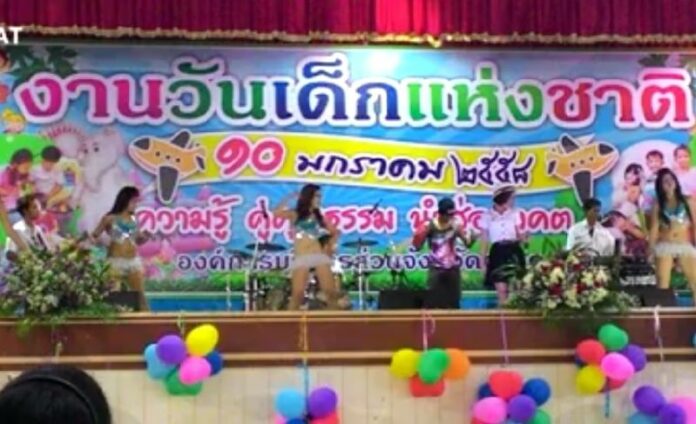 TRAT — A local official in Trat province has apologized for hiring scantily-clad female dancers to perform at a National Children's Day event on Saturday.
Photos of the women dancing before an audience of children quickly circulated on the internet and elicited criticism of the Trat Provincial Administrative Organization (PAO), which was responsible for organizing the event.
Wichian Sapcharoen, the director of Trat's PAO, said his office hired the band to entertain children for National Children's Day, but did not know the performance would feature so-called "Coyote dancers," a term commonly used in Thailand and inspired by the 2000 American film Coyote Ugly.
"As the director [of the PAO], I offer my apology for what happened. I am very sorry," Wichian said over the phone. He added that the band's application to perform at a Royal Thai Navy event in Trat province will now be denied.
"Every year the PAO brings toys and [gifts] that benefit children's development to the event. I didn't know this incident would happen," Wichian said.
State agencies across the country traditionally open their doors to children and host a variety of events on Thailand's National Children's Day, which is celebrated on the second Saturday of January.