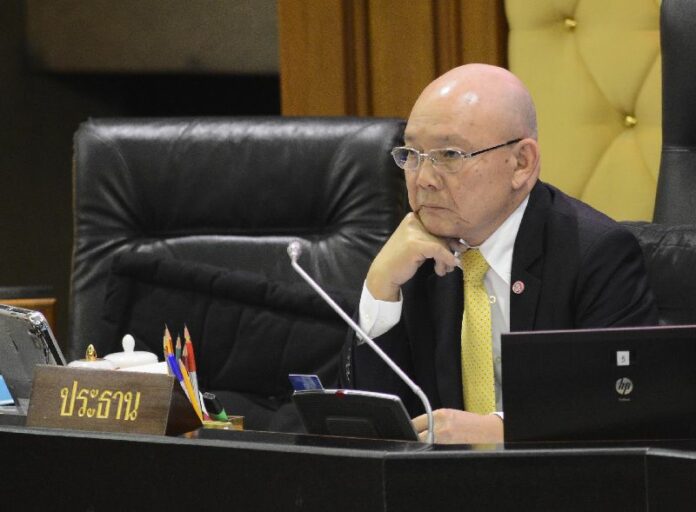 BANGKOK — A member of the Thai junta's reform body has suggested that all of his colleagues receive royal decorations as a reward for the "sacrifices" they are making for the country.
Kriangkrai Bhumilaochaeng, a member of the National Reform Council (NRC), proposed during a parliamentary session yesterday that NRC chairman Thienchay Kiranananda petition His Majesty the King for royal decorations on behalf of all NRC members.
Kriangkrai claimed that he and his colleagues deserve the gesture because they have "sacrificed" so much for the country.
"The NRC has sacrificed for the country by laying down paths for reform," Kriangsak explained.
In response to the proposal, NRC chairman Thienchay immediately ordered an end to the session and told reporters not to broadcast the discussion related to Kriangsak's suggestion. He also told the NRC members that the issue would be discussed in a closed session some other day.
Every year, thousands of royal decorations are bestowed to Thais who have demonstrated exceptional contributions to the country. It is common for veteran bureaucrats to petition the Royal Household Bureau to receive the honor.
The NRC was formed by the military junta that seized power from an elected government on 22 May 2014.
The reform body, which is heavily stacked with pro-establishment figures and military allies, has been tasked with implementing a wide range of "national reforms" before the next election.
Critics of the coup dismiss the junta's stated goal of achieving "national reconciliation" as insincere, arguing that factions opposed to the military and the coup have been excluded from the reform process.
A student activist was reportedly told to leave a talk show at a state-run TV channel last week after she raised critical questions about the NRC's legitimacy.
For comments, or corrections to this article please contact: [email protected]
You can also find Khaosod English on Twitter and Facebook
http://twitter.com/KhaosodEnglish
http://www.facebook.com/KhaosodEnglish