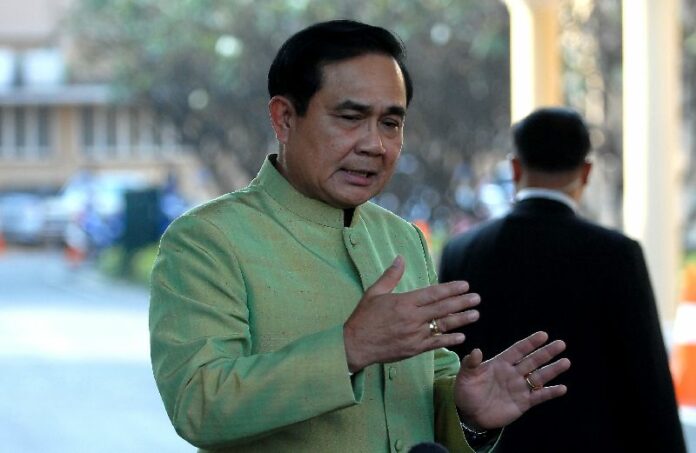 BANGKOK — Thai junta leader and Prime Minister Prayuth Chan-ocha has asserted his authority to pass a mass surveillance bill that would allow officials to inspect any form of communication without a requesting a court warrant.
When a reporter from Isra News asked the junta chairman to comment on the draft of the controversial Cyber Security Act, Gen. Prayuth responded that Thai people should study the "rules" instead of focusing only on the "restriction of their rights."
"Today, have I ever restricted anyone's rights? Have I ever done that?" asked Gen. Prayuth, who imposed martial law after leading a military coup on 22 May 2014, and has banned any political protests or public criticism of his regime.
The reporter pressed Gen. Prayuth to justify the sweeping nature of the bill, prompting Gen. Prayuth to lose his temper and shout, "I don't have to answer why! I will pass it. You have a problem with that? Otherwise, why the hell am I the Prime Minister? Why am I the Prime Minister?"
Gen. Prayuth then walked away from the reporters and said angrily, "I'm in a very bad mood."
If passed, the Cyber Security Act, a draft of which is available on the Thai Cabinet's website, would grant officials authority to "access any channel of information and communication, including mails, telegrams, telephones, fax, computer, or any other type of electronic and telecommunication equipment" in order to safeguard the "cyber security" of the state.
The bill states that officials can exercise those powers per orders from a Committee for Defense of National Cyber Security, which will be formed by the Cabinet, effectively discarding any legal need for authorities to apply for a court warrant first.
The legislation would allow Thai authorities to access any email, Facebook account, and computers of any individual suspected of engaging in actions that may affect "cyber security."
The draft of the bill also authorizes the Committee to "summon any state agency or individual to give testimony or submit any document beneficial to the operation of this Act," and to "ask" any state or private agency to "perform any task" to protect the national cyber security as decided by the Committee.
According to Thai Netizen, an NGO that campaigns for internet freedom in Thailand, the draft has been approved by the Cabinet, and is now awaiting a vote by the National Legislative Assembly, a body appointed by the junta last year.
Thailand already has two draconian pieces of legislation used by authorities to restrict freedom of expression on the internet: the lese majeste law, which criminalizes any criticism of the monarchy, and the Computer Crime Act.
The Computer Crime Act, which carries a maximum penalty of five years in prison and a 100,000 baht fine, outlaws any use of a computer system that affects "national security," "spreads false information," or damages the "good morality of the people."
Critics say the law's sweeping scope is regularly abused to restrict freedom of speech. In December 2013, the Royal Thai Navy sued an online news site in Phuket province with the Computer Crime Act for reprinting a Reuters article that accused some members of the navy force of collaborating with human traffickers in Thailand's southern coast
Deputy Prime Minister Visanu Krue-ngam told Daily News yesterday that the Cabinet will invite opinions from many Ministries and may amend the surveillance bill accordingly before it sends a draft to the NLA.
"Each Ministry will submit its opinion in different issues, including human rights," Visanu was quoted as saying.
For comments, or corrections to this article please contact: [email protected]
You can also find Khaosod English on Twitter and Facebook
http://twitter.com/KhaosodEnglish
http://www.facebook.com/KhaosodEnglish