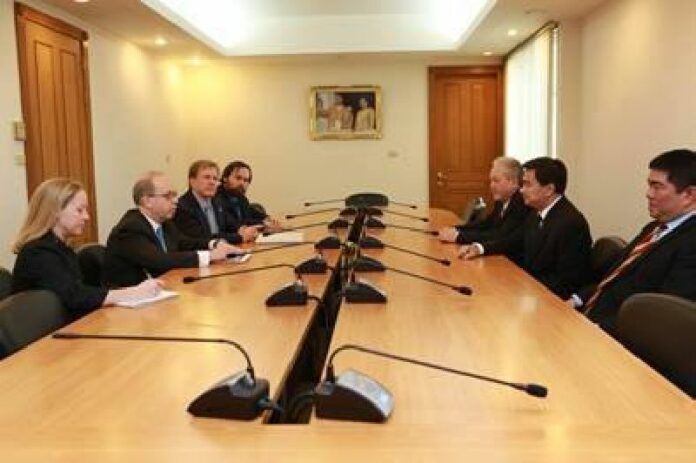 BANGKOK – In a meeting with top US diplomats today, the leaders of Thailand's Democrat Party faulted the previous government's "abuse of power" for the political crisis that led to the military coup in 2014.
US Assistant Secretary of State for Asia-Pacific affairs, Daniel Russel, and US Charge d'Affaires to Thailand, W. Patrick Murphy, visited Democrat Party chairman and former Prime Minister Abhisit Vejjajiva at the party's headquarters in Bangkok at around 10 am today.
Abhisit was accompanied by Democrat deputy chairman Kiat Sittheeamorn and former secretary to the Prime Minister, Isra Sunthornwat.
Kiat said the Democrat leaders spoke to the US representatives about the "roots" of the political crisis in Thailand.
"There are two main roots: the abuse of power and corruption," Kiat told reporters after the meeting. "Although the party that won the election managed to form a government, they ended up abusing their power. I hope that the new constitution will fix this issue. The second root is corruption."
According to Kiat, the group also discussed whether the military government's "road map" to democracy will succeed.
"We talked about the drafting of the new constitution. We already have our formal suggestions," Kiat said. "We believe there should be a referendum on the charter. The referendum should clearly give two options: accept or not accept."
The Democrat Party was heavily involved in the protest movement against former Prime Minister Yingluck Shinawatra that started in November 2013 after her party tried to pass an amnesty bill that would have dissolved corruption convictions against her brother, Thaksin Shinawatra, who was ousted from the premiership in a military coup in September 2006.
Suthep Thaugsuban, deputy chairman of the Democrat Party, resigned from his post to lead the protest movement. The Democrat Party also boycotted the snap poll called by Yingluck after she dissolved the House in December in an effort to appease the protesters.
Six months of street protests eventually culminated in the military coup on 22 May 2014.
Russel, the highest-level US official to visit Thailand since the coup, also met separately today with Yingluck and the current Thai Minister of Foreign Affairs, Gen. Thanasak Patimaprakorn.
Speaking to a crowd at Chulalongkorn University after today's meetings, Russel stressed that any attempts to bring about national reconciliation in Thailand must be inclusive.
"A narrow, restrictive process carries the risk of leaving many Thai citizens feeling that they've been excluded," Russel said, emphasizing that the US had no intentions to take side in Thai politics. "That's the reason why we continue to advocate for a broader and more inclusive political process that allows all sectors of society to feel represented, to feel that their voices are being heard."
Russel also said that the US was concerned with the military government's curtailment of civil rights, and urged the junta to lift martial law and allow for the peaceful voicing of political views.
The US official refused to discuss further details of his meetings with Thailand's political leaders, citing standard diplomatic procedures, but said he felt he had been given a "serious hearing."
Related coverage:
Yingluck Discusses 'Unfair' Impeachment with Top US Diplomat
Prayuth Shrugs Off 'Snub' By US Diploma
For comments, or corrections to this article please contact: [email protected]
You can also find Khaosod English on Twitter and Facebook
http://twitter.com/KhaosodEnglish
http://www.facebook.com/KhaosodEnglish