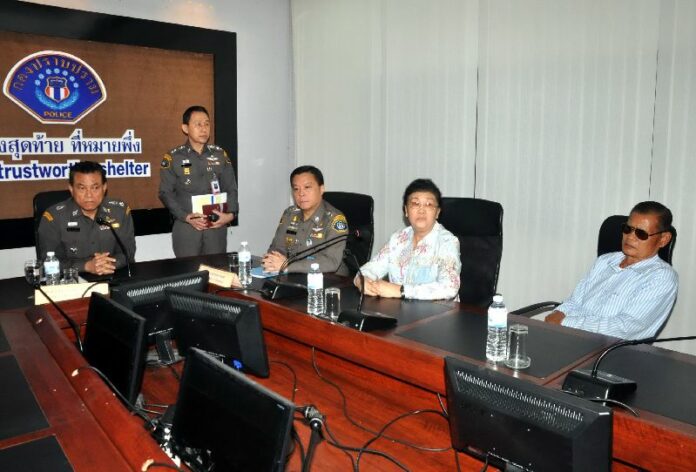 BANGKOK — The parents of the wife of Thailand's Crown Prince, who resigned from the Royal Family last December, denied charges of lese majeste today in their first public appearance since their family was stripped of their royal surname last year.
Last week, a woman in Ratchaburi province accused Apiruj and Wantanee Suwadee, the parents of former princess Srirasmi, of using their royal connections to bully her in 2003. According to the charges, the pair used their royal influence to have the woman, Sawita Maneechan, jailed for 18 months on a bogus fraud conviction.
In addition to defaming the monarchy, which is punishable by up to 15 years in prison, Srirasmi's parents have been charged with facilitating the filing of false police reports that led to criminal charges.

Apiruj and Wantanee Suwadee at the Crime Suppression Division headquarters in Bangkok, 9 Feb 2015.
Both Apiruj and Wantanee denied the allegations this morning at a meeting with police officers at the Crime Suppression Division headquarters in Bangkok.
"I don't know what to say," Wantanee said. "I never knew [Sawita]. I don't know who is who in her family. Please give us some fairness. We never knew anything about it. We never intended to bully anyone. You can make me swear oath on anything, I will do it."
According to the defendant, Wanatee arranged the lawsuit as punishment for Sawita's alleged affair with Apiruj, which Sawita denies.
The lese majeste accusations follow former Princess Srirasmi's resignation from the Royal Family in December 2014 after several of her other relatives, including her brother and sister, were arrested on charges of lese majeste and running massive crime ring. At least 27 arrest warrants have been issued to people in connection with the criminal network, which included several high-ranking police officers.
Speculation about the scandal, one of the biggest to rock the Thai police force and palace in recent years, reached a fever pitch after Crown Prince Vajiralongkorn stripped Srirasmi's entire family of the royally-bestowed surname Akharaphongpreecha, forcing them to revert back to their "commoner" surname, Suwadee, on 30 November. Srirasmi's resignation from the Royal Family followed a few weeks later.
Today's meeting at the police headquarters was the first time Srirasmi's parents have appeared in public as commoners since the scandal broke out last year.
Asked to comment on the allegations, Wantanee said she has never flaunted her daughter's connection to the Crown Prince.
"We lived as commoners," Wanatee said. "We never required any visitors to our residence to kowtow or crawl on their knees. We greeted them normally. There's no hierarchy. We are all equals. We treated them with dignity."
She continued, "There's nothing else we can lose in this life, because we have lost everything already. Don't pile more troubles on us, please. What else do you want from us? We have no more tears to cry these days. Please show us some sympathy and compassion. We never intended to insult the monarchy. We love every member of the Royal Family. No matter what happened, we still love and revere them to this day."
Pol.Maj.Gen. Thitirat Nongharnpitak said police will proceed carefully with the "sensitive" case, but stressed that the criminal investigation has to go ahead in accordance with the law.
"As far as our initial investigation concerns, there are some facts and evidence to this case," Pol.Maj.Gen. Thitirat said. "But we will also respect the rights of the accused, because it is a sensitive case. Society is watching. Let me stress that everything will be according with evidence."
After announcing her resignation, former Princess Srirasmi moved out of the Crown Prince's palace in Bangkok to live with her parents in Ratchaburi. She has not been seen in public since 13 December, when she applied for a new national ID card as a commoner.
It is unclear whether Srirasmi and the Crown Prince are formally divorced. The couple married in 2001 and have one 9-year-old son.