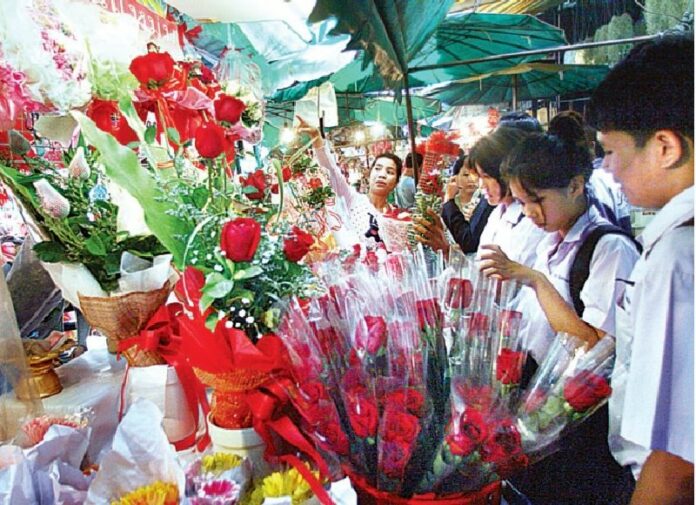 BANGKOK – The Thai government is preparing its annual campaign to monitor nightclubs and hotels on Valentine's Day to prevent incidents of rape or other illegal activities.
Apinan Suethanuwong, deputy secretary of the Ministry of Interior Affairs, said state agencies in "every province" have been ordered to ensure that clubs and hotels strictly follow regulations on the holiday.
"Owners of entertainment venues and hotels like to organize events or activities that attract members of the public to use their services," Apinan said yesterday. "So there is a risk of crimes, sexual problems, and other accidents."
Valentine's Day has become a widely-celebrated holiday in Thailand in recent decades. According to a report compiled by Kasikorn Bank, spending around the holiday last year amounted to 1.5 billion baht.
However, authorities in Thailand – a socially-conservative country despite its free-wheeling sex industry – have frowned upon the holiday, as it is perceived to encourage premarital sex. Every year, police raid motels on 14 February to prevent couples under the age of 18 from engaging in "inappropriate activities."
According to a poll conducted by Baan Somdej University in 2012, 35 percent of Bangkokians under the age of 18 have had sex.
Apinan, the Ministry of Interior Affairs official, said nightclubs have been ordered to bar any underage customers and prevent drug use on their premises. Hotel owners have also been instructed to keep an eye out for any young people that appear to be "lured, coerced, or drugged" by their partners, Apinan said.
"If there is any suspicion that an illegal action may be committed, the staff should immediately inform authorities or the police in their area," said Apinan.
He added that hotel owners will also be required to personally approve anyone under the age of 18 who attempts to check in without a guardian.
For comments, or corrections to this article please contact: [email protected]