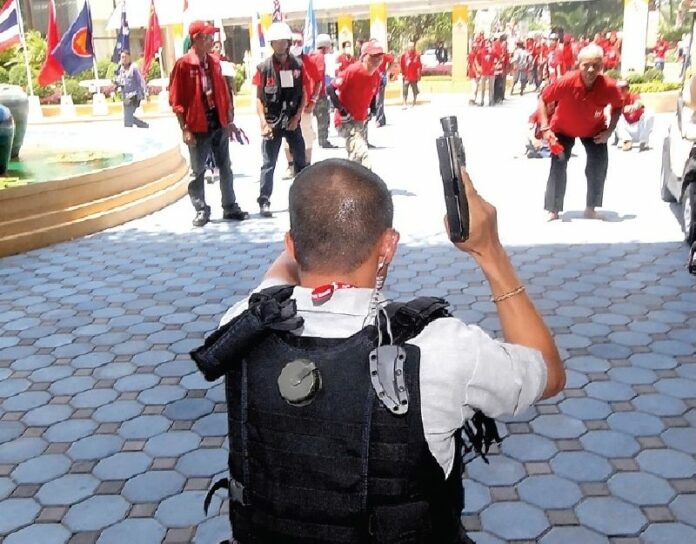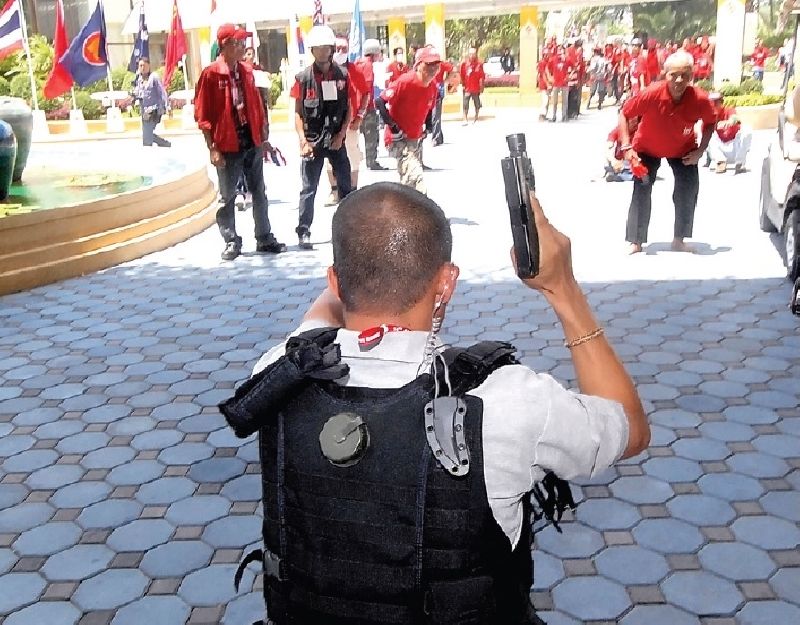 CHONBURI — Thirteen Redshirt activists have been sentenced to four years in prison for storming the venue of an international summit in Pattaya nearly six years ago.
The defendants were found guilty by a court in Chonburi province yesterday of violating the Emergency Decree, which was enacted by the government in April 2009 in response to mass Redshirt protests in Bangkok. The court also fined the defendants 200 baht each for blocking traffic with their protests.

Redshirts storming the hotel on in Pattaya on 11 April 2009.
The convicted activists include Arisman Pongruangrong, former folk singer and core leader of the Redshirts' umbrella organization, the United Front of Democracy Against Dictatorship (UDD).
In April 2009, the UDD staged a massive protest in Bangkok to pressure then-Prime Minister Abhisit Vejjajiva and Gen. Prem Tinsulanonda, the top adviser to His Majesty the King, to resign from their positions.
After their demands were not met, Arisman and other UDD leaders escalated the protest and staged another rally in front of Royal Cliff Beach Resort in Pattaya, where representatives from Association of Southeast Asian Nations (ASEAN) were gathering for an annual summit on 11 April 2009.
Clashes between the Redshirts and mysterious blue-shirted militants later broke out, and the angered Redshirts eventually forced their way into the hotel, prompting the government to cancel the summit. Thai and foreign government representatives were forced to flee from the hotel on helicopters.

The mysterious blue-shirted militants who provoked Redshirts on 11 April 2009.
Two days later, on 13 April, Abhisit's government ordered the military to disperse the Redshirt protesters, who had reunited in Bangkok following the cancellation of the summit.
UDD leaders called off the rally and surrendered themselves to police on the following day. No fatalities was reported in the military operation, though two civilians were shot dead during a clash between demonostrators and residents of Nang Loeng district.
Violence would later return to Bangkok with a bloodier conclusion in April 2010, when UDD staged another round of mass protests in the capital city to demand a fresh election. The protests were crushed by the military in May 2010. At least 90 people, mostly civilians, were killed in the crackdown.
Karom Polpornklang, the lawyer who represented the 13 defendants jailed by the court yesterday, said he has filed an appeal and requested bail releases for his clients.
All of the defendants are currently being held at Nong Pla Lai Remand Prison.
For comments, or corrections to this article please contact:[email protected]
You can also find Khaosod English on Twitter and Facebook
http://twitter.com/KhaosodEnglish
http://www.facebook.com/KhaosodEnglish