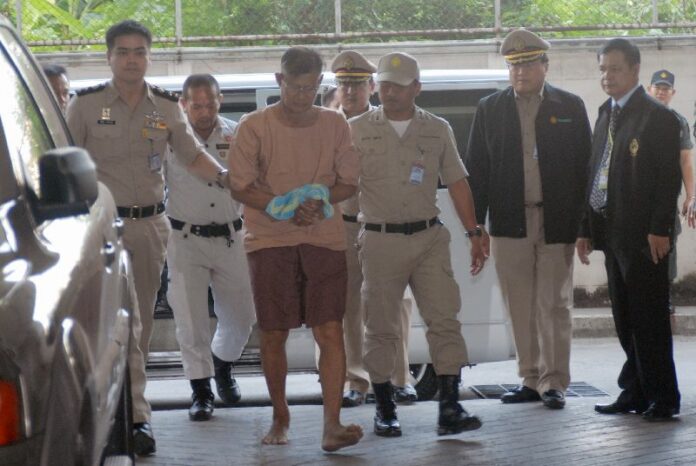 BANGKOK — The parents of a former Thai princess have been sentenced to two and a half years in prison for insulting the monarchy.
Apiruj and Wantanee Suwadee, the parents of the Thai Crown Prince's third wife, were accused last month of using their royal connections to have a woman in Ratchaburi province imprisoned for 18 months on a bogus fraud conviction.
In an unusually swift conclusion of legal procedures, the Criminal Court found Apiruj, 72, and Wantanee, 66, guilty of making a false report to police and defaming the monarchy, a crime punishable by up to 15 years in jail under Thailand's lese majeste law.
The court sentenced the pair to five years in prison, but ultimately halved the jail term because both defendants confessed.
The judge also noted in the court briefing that the two defendants "voluntarily" declined to be represented by a lawyer during the trial.
The pair was arrested on 27 February and detained in Bangkok prisons while they awaited their trial. Apiruj and Wantanee were escorted back to prison immediately after the judge finished reading the verdict today.
The two defendants initially denied their charges when they first reported to the police, but later confessed to the crime.
"We have confessed everything," Wantanee said to reporters after a second meeting with the police on 27 February 2015. "What I have done, what I have said, I did not mean it. That is all. I have confessed to every allegation. I don't want to say much. I only would like to say that I still love and revere the monarchy."
Apiruj and Wantanee are the latest members of former Princess Srirasmi's family to be convicted of lese majeste this year. In one of the biggest scandals to rock the palace in recent years, Srirasmi resigned from the Royal Family in December 2014 after her brother, sister, and uncle were arrested on charges of lese majeste and running a massive crime ring.
Srirasmi's uncle, former police commander Pongpat Chayapan, and sister, Sudathip Muangnuan, were found guilty of lese majeste on 30 January and 2 February, respectively.
After her royal resignation, Srirasmi moved out of the Crown Prince's palace in Bangkok to live with Apiruj and Wantanee in Ratchaburi province and has not been seen in public since 13 December, when she applied for a new national ID card as a commoner. She later issued a statement requesting privacy from the crowd of reporters who were camping in front of her residence.
It is unclear whether Srirasmi and the Crown Prince are formally divorced. The couple married in 2001 and have one 9-year-old son.